Prepping for the playoffs, the varsity softball girls faced a pair of section contenders this week when they took a road trip to play state third-ranked Sleepy Eye St. Mary's on Tuesday and then took on visiting sixth ranked New Ulm Cathedral on Wednesday.
The Clippers kept close to the Knights in a 4-2 loss and topped the Greyhounds 2-0.
The Clippers twisted three double plays against NUC. With a couple of diving catches, Kaylee Karels was a trap in center field.
"Our defense was awesome," said senior catcher Harley Connor. "It was so cool to see everyone working together to get all of those double plays."
Hailey Plonsky threw all seven innings. She allowed just four hits, struck out none and walked none.
"Hailey did what she has done all year," said head coach Mike Barten. "She just keeps the ball down and makes batters hit her pitch. She had Cathedral hitting her pitch, whether it was a ground ball down or a popup."
Both Clipper runs against the Greyhounds came in the third. Emma Sweere led off with a single. Karels walked, and both she and Sweere scored when Lexy Waldron (above) dropped a hit into left field.
The Clippers fanned four times, walked once and totaled 6 hits. Laci Hollerich hit a single in the second and again in the sixth. Karels singled in the second. Cassandra Connor singled in the second. Delaney Thompson and Greta Hahn each singled in the sixth.
NUC had one double play and suffered three errors. The Clippers made one error.
"It was just a fun day to be here and be a coach," Barten said.
A day earlier, the Clippers scored their first run against undefeated SESM in the second when Sweere got hit by a pitch, advanced to second when Connor also got hit by a pitch and moved to third and then home on a pair of passed balls.
The Knights scored all their runs in the third on a single followed by a walk followed by four-straight singles.
In the fifth, Sophie Shouler singled, stole second and scored on a pair of passed balls.
The Clippers threatened in the seventh when Karels and Cassandra Connor hit back-to-back singles, but a line drive to the shortstop for an out and a strikeout ended the game.
Facing a fastball in the low 60s, Cleveland struck out 11 times, walked three times and had four hits. Kiera Schipper singled in the fourth.
Plonsky threw the first three innings. She gave up six hits. Thompson threw the second three innings. She didn't allow a hit and walked two.
The Clippers committed two errors, one more than SESM.
The Clippers will take on Martin County West in a 4:30 Valley showcase game at North Mankato's Caswell Park. The Clippers edged MCW on the road 2-1 earlier in the season.
"They'll probably want payback, so I'm expecting a tough game," Barten said. "Darrell (Ziegler) is a fantastic coach."
Hailey Plonsky worked the edges to keep NUC popping the ball into the sky or beating it into the sand.
The Clippers should have had another double play when shortstop Sophie Shouler scooped up this grounder and touched the NUC runner's leg before tossing the ball for an out at first.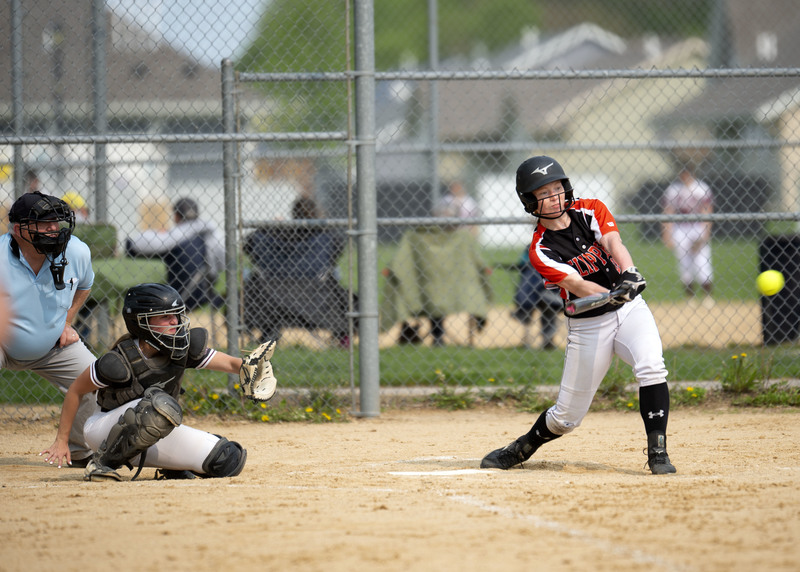 Emma Sweere at bat against NUC.
It was summer softball league night at the game. All players were recognized after.