SNAP!
That was the sound reverberating through the Cleveland baseball field on Monday as the Clippers beat Mountain Lake 10-6 to break a 12-game losing streak.
It was their first victory of the season. Ranked last of the 14 teams in Section 2A, the Clippers take on third-seeded Springfield today (Thursday) in Springfield at 5:00 pm.
With six hits, the Clippers equaled Mountain Lake, but the Wolverines suffered five errors, two more than the Clippers, and walked five, also two more than the Clippers.
Head coach Mike Krenik didn't think the game would be a cakewalk, especially since among Cleveland, St. Clair and Mountain Lake, the Wolverines were rated the best and Cleveland last. ML also beat Heron Lake-Okebena/Fulda, a team that 10-runned the Clippers last week.
"I thought they would be throwing a lot more curve balls, and they did throw some, and we buckled under them, but we were patient and found balls to hit. Also, they brought in two different pitchers, but their reliever didn't find the strike zone."
In the Clippers' first complete game of the season, Kyle Connor (above) earned the win. He struck out six.
"I wasn't planning on finishing, but after the fifth inning I felt really good," said the sophomore. "I was locating pretty well, but I have to give credit to my defense. They were picking me up tremendously."
"We were dealing with pitch counts, but he had a hot hand, and he was getting stronger as we were going through the game," Krenik said.
Mountain Lake jumped out to an early 2-0 lead on a hit batter and three-straight singles, but the Clippers responded right away when Nathan Seeman led off with a single, Connor walked, and both made the rest of the way around the base paths on errant pitches.
Kale Kelley walked too, stole second and scored when Tanyon Hoheisel hit into an error in right field, and the Clippers led 3-2 going into the second.
Hoheisel is one of three seniors on the team and will continue his baseball career after high school. He knew this year was going to be about rebuilding and was happy to finally get the loss monkey off his back.
"It feels amazing. We fixed a couple of errors here and there and came through at the end. It's kind of sad it happened at the end of the season, but it's going to be good for next year."
Known for being long-ball hitter, Hoheisel has been struggling this year, both on the mound and at the plate. But he started to come around in both skills noticeably at ISJ Field last week, and the team is building a connection, he said.
"For the past two or three seasons I started with a slump, but I always find my way out, especially with Mike (Krenik) giving me tips here and there. I went back to some previous coaches too and try to stay mentally sound on what I need to fix."
Mountain Lake didn't waste any time getting back in the game though when they replied with three runs on a walk, a triple, a single and an infield error for a 5-3 advantage after three.
But Connor and company settled down after that, and the Clippers scored a run in the fourth when Kelley walked, swiped second and third and touched the dish when the catcher's pickoff throw to third got by the infielder.
Mountain Lake went up 6-4 in the top of the fifth when Connor beaned a batter and a fly ball to right field got by Cleveland's outfield for a long error.
But the Clippers posted four runs in the fifth to take a lead they would never relinquish. Mountain Lake's infield couldn't handle Connor's grounder, and Gabe Sullivan got hit by a pitch.
Kelley singled to the outfield, and the ball got by the left fielder. Connor and Sullivan scored on the error. Kelley crossed the plate on a booming Hoheisel triple, and Hoheisel scored on a passed ball for an 8-6 Clipper lead.
The Clippers added a couple of State Farm runs in the sixth when Derek Miller singled, advanced twice on errant pitches and scored on a Connor base hit. Connor moved to second on a passed ball, took third during a Jack Voit grounder and scored during the play on an error by the first baseman.
Connor gave up a hit in the seventh but struck out the final batter for the win.
The Clippers fanned 11 times. Connor, Seeman, Sullivan, Kelley and Miller each had a single. Hoheisel had a triple.
Third baseman Alex Garcia, another of the senior trio, said he has been struggling too but did his best after not playing much at all in 2022.
"I worked with what I could, and this year I showed a little more. A shout out to the JV and other players for showing how to make teamwork. They encouraged others, especially Blake Lyons. Every time I made a mistake at third, Blake picked me out of the shallow grave I was in."
Voit, the other senior, didn't get a hit in this game, but had been leading the Clipper batters this season, something he didn't expect as he also didn't get much play time last season. He said the win will help bring energy to the playoffs.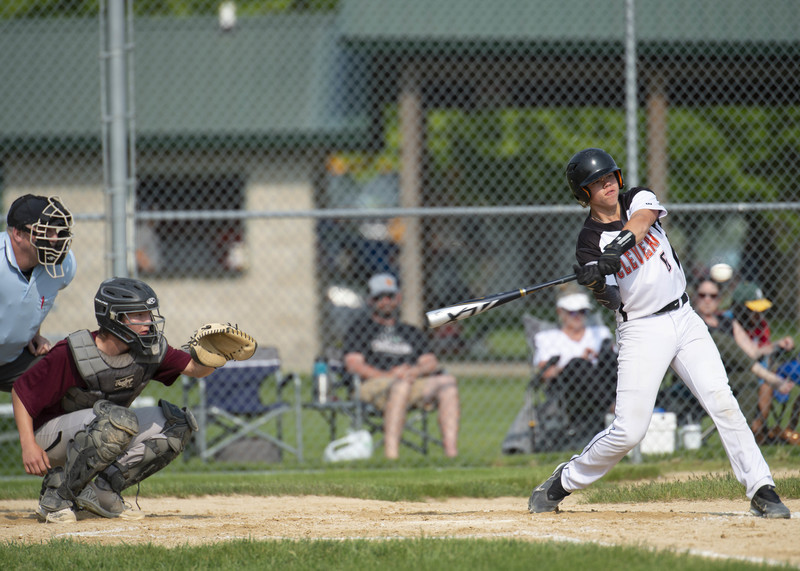 Gabe Sullivan had one of the Clippers' six hits.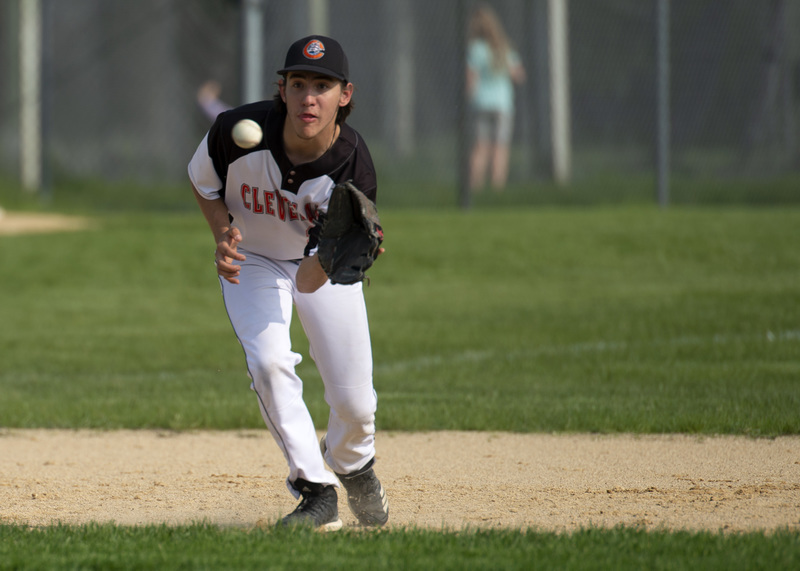 Alex Garcia on the catch at third.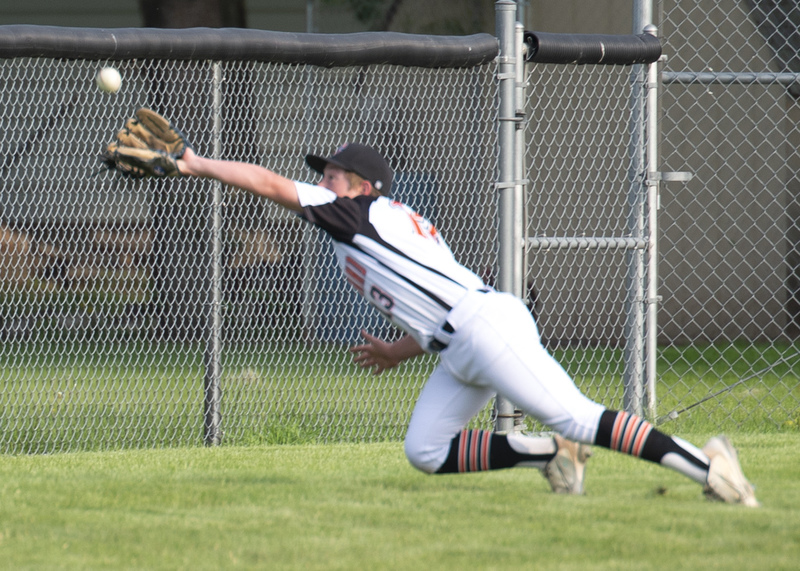 Caleb Connor reaches for a ball in deep foul territory. He made the catch.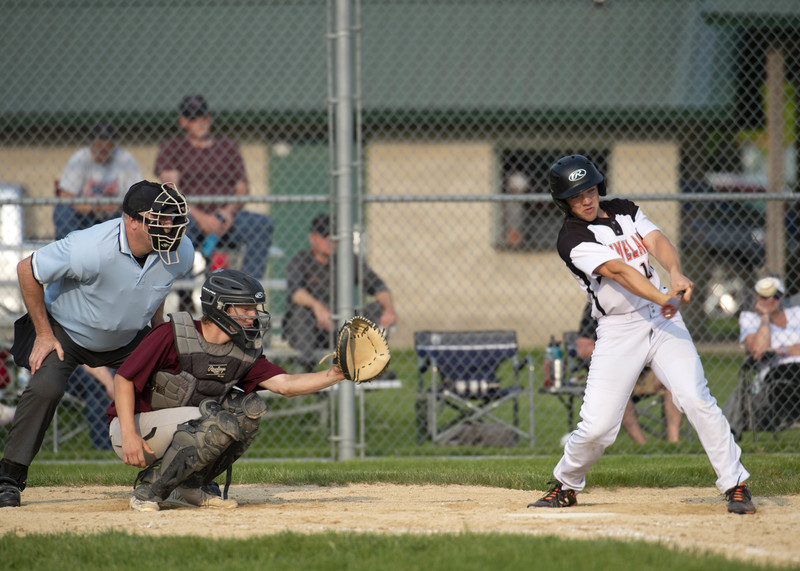 Derek Miller at bat. He came up with a base hit.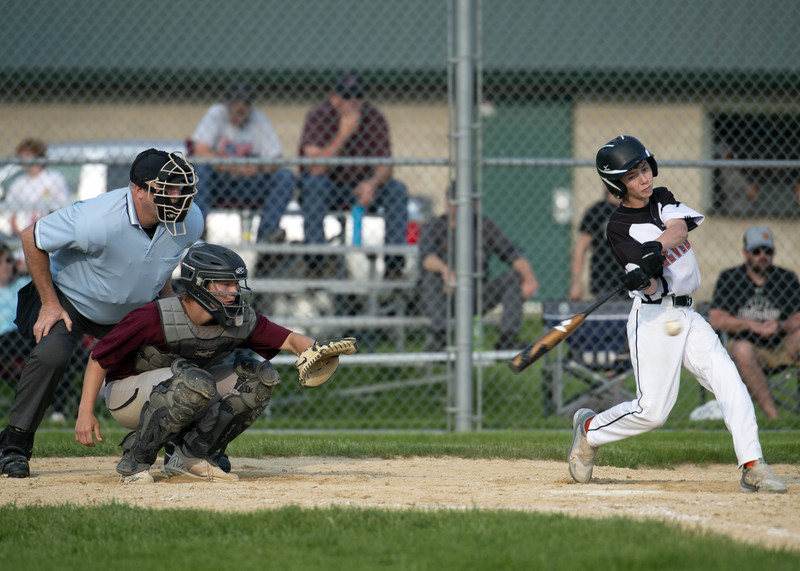 Nathan Seeman also had a hit.