It was a typical MO for the Cleveland varsity softball girls.
Their hitting got off to a slow start, but as the game progressed their bats went on a destructive spree.
And Clippers defeated visiting Granada-Huntley-East Chain/Truman/Martin Luther 11-3 on Monday to advance in the section playoffs.
"We knew this could be our final game," testified Kaylee Karels (running to home above). "We wanted to get all pumped up because anything can happen, and that's what we did. Once we started getting hits, it was a domino effect on everyone."
With a homer and two singles, Cassandra Connor was one of the usual suspects. With a double and a pair of singles Harley Connor's fingerprints were all over the triumph. Sophie Shouler totaled three singles. Laci Hollerich had a double and a single. Kiera Schipper had a triple and a single. Greta Hahn had a pair of singles. Lexy Waldron added one single.
The Jaguars leadoff batter walked and scored after an error and an RBI single to go up 1-0 after one. With a blast over the centerfield fence, Cassandra Connor tied the game in the second.
After a pair of hits and another Clipper miscue, the Jags took a 2-1 lead in the top of the third, but the Clippers responded right away with three runs.
The Jags lost lead-off Karels' looper to short center field. Shouler singled and reached third on the play when the third-baseman's throw to first skidded in the dirt. Karels scored on the error. Hollerich doubled to release Shouler from third and scored herself when she stole home for a 4-2 Clipper advantage and a lead they locked up for the rest of the game.
The hitting Connor cousins smacked back-to-back singles in the third, and Cassandra Connor scored on a Karels ground out to put her team up 5-2.
With six runs, the Clippers blew the game open in the sixth.
Harley Connor led the frame off with a double. Shouler singled, and Hollerich singled to score Kaitlyn Flowers—who was courtesy running for Harley Connor—and Shouler. Waldron singled to score Hollerich, and Schipper's triple brought in Waldron. Hahn singled for another RBI and took second on the play. Cassandra Connor singled to get Hahn across the dish.
On two walks and two hits, the Jags managed another run in the seventh before the game ended on a flyout to Hollerich at first.
"It's nice to get that first one out of the way," said head coach Mike Barten. "Like the girls were talking about, there were maybe some nerves, whether warranted or not."
Hailey Plonsky earned the win. In five and two-thirds innings, she gave up six hits, struck out four and walked four. Lilly Lamont was an accessory in the win. She allowed two hits and two walks in relief while striking out one.
The Clippers were charged with two errors. The Wolverines were also guilty of two errors.
The fourth-ranked Clippers host fifth-seeded Springfield tonight (Thursday) at 5:00 pm. It was the matchup that should have occurred last year, but Madelia upset the Clippers at home in the first round.
"They're a solid team out of the Tomahawk, so they see New Ulm Cathedral, they see Sleepy Eye St. Mary's, and they play tough non-conference game," Barten said. "They have great athletes. You know they are going to be active on the bases, and they've got good pitching."
Regardless of the outcome, both teams will go on to play at Caswell on Saturday.
"Caswell Memorial Day weekend…there's nothing better," Barten said.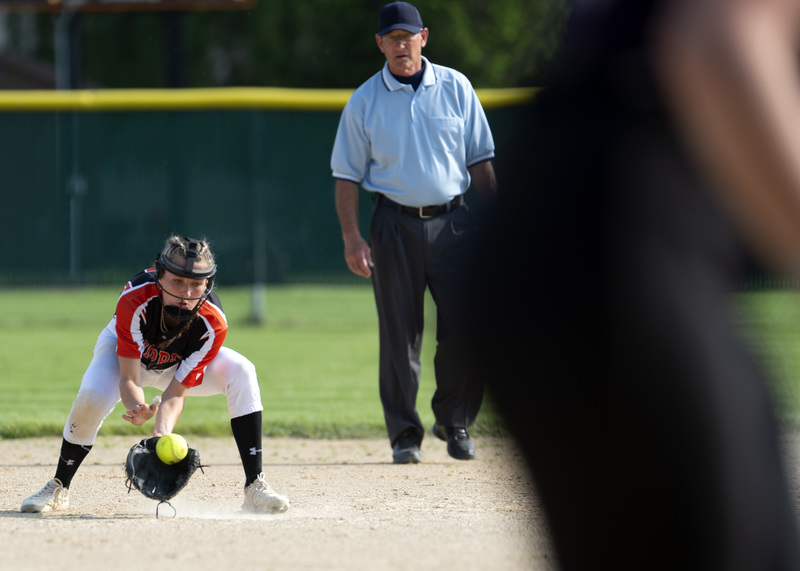 Shortstop Sophie Shouler on the scoop.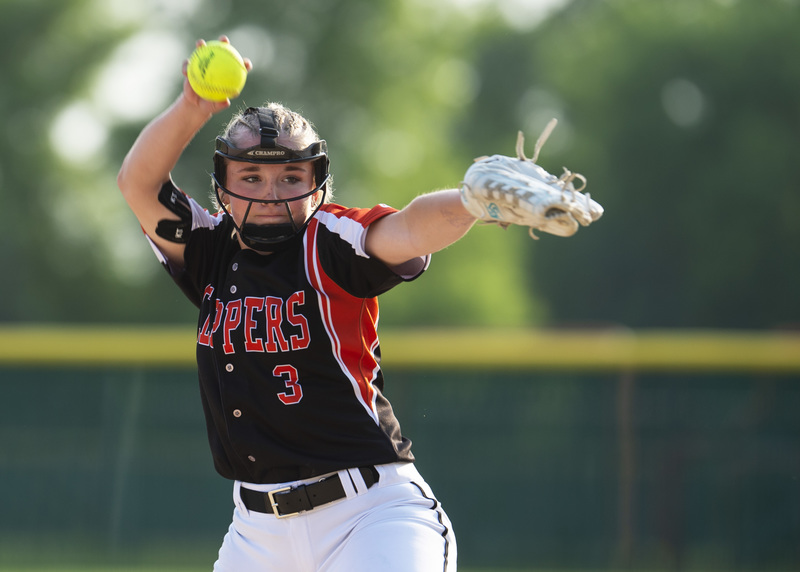 Lilly Lamont took the circle in relief.