As a freshman a year ago, Savannah Meyer competed in the state track & field meet in the 1600, but this spring, the 800 has been her signature race.
Crossing the finish line in 2:25.04 at the section meet at Mankato West on Saturday, Meyer took 2nd place in the event, improved her subsection time by 0.86 second for a new PR and once again punched a ticket to the state meet.
Meyer was leading most of the first lap.
"I felt somebody was going to be in front of me right away, so I felt I could have gone faster, but I did not want to go too much faster."
Somewhere near the 300-meter mark, she got eclipsed by a River Valley runner. Later, the River Valley runner slipped back. When she crossed the finish line, Meyer was behind a runner from NRHEG by only 0.15 seconds.
Temperatures on the field were in the 90s, and on the track it was noticeably warmer, which didn't make twice around it and easy trip, Meyer said.
"I'm dying. It was so hot."
Earning a trip to the state meet as well was Meyer's teammate Simon Morgan. The senior's gold medal 15.15 finish in the 110 high hurdles was a only a 100th of a second in front of the 2nd-place finisher. With the win, Morgan set a new school record.
Also on the Mankato West track, the Crusader boys 4x100 team of Henry Strobel, Josh Kann, Nick Huisken and Morgan finished with a 46.46 for 7th place. The winning time was 44.20.
Improving his PR by 2.03 seconds, Nathan Strobel finished the 1600 in 4:52.42 for 9th place. The winning time was a blistering 4:25.76.
With an 11.58.76, TJ Waldron was 16th in the 3200.
The 4x400 team of Maddie Huiras, Meyer, Kylie Kolars and Lauren Yenish was 7th with a 4:34.41 finish.
Other Crusaders results at the section meet are follows:
Girls
Huiras: 110 hurdles, 4th, 17.18; 300 hurdles 4th, 48.88
Yenish: 110 hurdles, 10th, 17.92
Molly Koester: 3200, 11th, 14:07.08
Kylie Kolars: High jump, 5th, 4-10; long jump, 5th, 15-01-50
Raegan Tiegs: Triple jump, 8th, 31-04
Boys
Chase Kajinski: 300 hurdles, 12th, 48.48; high jump 11th, 5-04
James Young: 1600, 10th, 4:54.54
Soren Kelly: 3200, 4th, 10:27.93
Huisken: Pole vault, 11th, 9-11
Sam Vetter, Kajinski, Kyle Zimmerman, Carter Zimmerman: 4x800, 7th, 8:57.71.
At Saint Michael Albertville, the state meet prelims will be Thursday, and the finals will be Friday.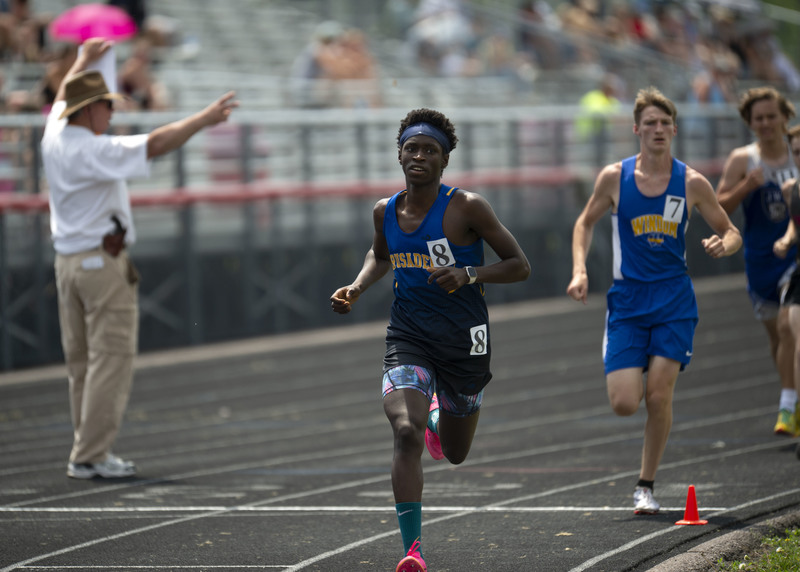 Nathan Strobel in the 1600.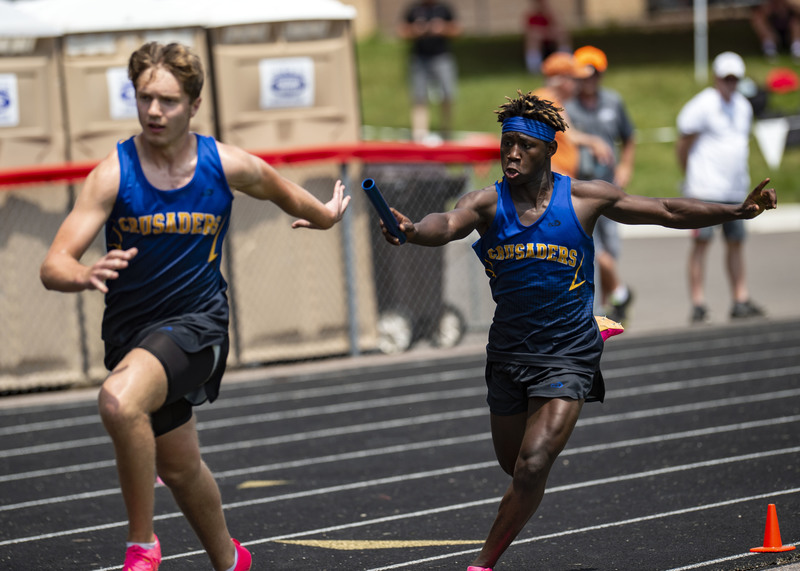 Henry Strobel hands off to Josh Kann in the 4x100. It was the last act of a fine athletic career for the senior.
TJ Waldron in the 3200.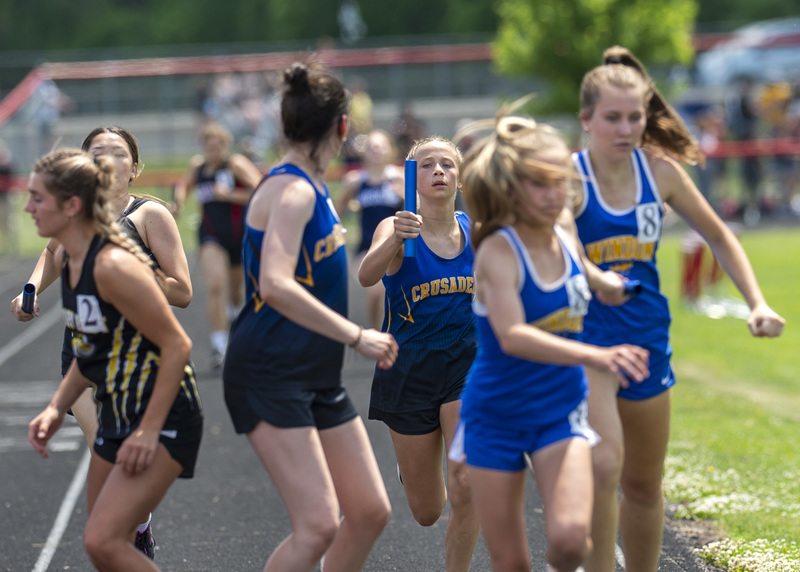 Savannah Meyer hands the baton to Kylie Kolars in the 4x400.