Since both of her parents have made teaching their vocation, it was only natural that Katie Cink, during her years as a CHS student, considered following in their footsteps.
Until she joined the school's FFA program though, the senior never thought about throwing agriculture into the mix, but this fall, Cink will combine the two at the University of Wisconsin - River Falls.
"FFA influenced my choice to study agriculture education because of all the great things I learned from it: so much more about responsibility, organization, communication, and leadership skills. Teachers Ms. (Kelly) Susa and Mrs. (Rebecca) Herberg also influenced my choice. They have been such mentors and inspirations for me."
Taking advantage of an FFA learning activity this spring, Cink was one of 21 CHS students and 4000 FFA members from around the state who attended the 94th annual state FFA convention. The gathering was held at the University of Minnesota and the State Fairgrounds on April 23-25.
While the Cleveland FFA chapter is relatively new, members did well in the various competitions held during the convention, said Susa.
Cink and freshmen Mollie Bowman and Carter Kern took third place overall for their marketing plan. Cink also competed in the Leadership Development Event that focused on employment skills and earned a respectable 13th place.
Other CHS FFA members competed in career development events (CDEs).
In Soils, sophomore Thayne Remiger and senior Lilly Draheim received silver ratings while senior Sarena Remiger earned a bronze. As a team, the trio finished 26th for a silver mark.
Although undecided about her major, Draheim will attend the University of Nebraska this fall.
"Without FFA, I would never have found the college I will be attending," she said. "Ms. Susa took students on college visits last summer, and one of them was UNL. If I did not have this summer college visit, I probably would never even have thought of going to Nebraska. I am so very thankful for that college visit opportunity because it helped me figure out what my next step after high school will be."
Draheim said FFA and the school's ag program also helped her gain lifelong abilities, like how to be a good communicator, how to plan events and how be a better leader in the community.
"These skills that I learned will help me succeed more in college and whatever career I go into."
In the CDE Nursery Landscape, freshman Elijah Mons and junior Ellie Dylla both received a silver while sophomore Reid Knish earned a bronze. As a team, the three finished 29th for a bronze rating.
The Food Science team attended the state convention but did not compete as the semi-final round was held virtually beforehand, and they did not make the final round. That group included seventh graders Jackson Wille and Kayla Hoffmann and freshmen Emma Bluhm and Vanessa Wondra.
A pair of CHS teams competed in the Best Informed Greenhand Contest, a competition for new members that consists of a 100-question test on the FFA's history, goals, structure and opportunities.
As members of the first team, Wondra was 76th out of 450 students for the second-best Cleveland score and a gold mark. Samantha Baker also earned a gold. Kern, Bluhm and Bowman each earned a silver. As a team, in which the top three scores were considered, they were 26th with a gold rating.
Team two's Anna Kawtski-Klein, a freshman, was 65th out of 450 students for the best Cleveland score and a gold rating. Freshman Vivian Hilfer also earned gold. Freshman Sierra McCabe's score put her at a silver mark. Wille's score was good for a bronze as was Hoffmann's. As a team, they took 41st for a silver placing.
Also at the convention, two CHS students played in the FFA band: freshman Dacota Lotspeich on the bass guitar and sophomore Evelyn Keltgen as first alto saxophone.
Senior Caitlynn McCarthy attended the convention to serve as a MN FFA Association Ambassador. She talked with important sponsors and donors to secure funding for the state organization.
The Cleveland chapter's two delegates—who discuss and vote on state FFA business—were Bluhm and sophomore Chloe Haack.
CHS's chapter was recognized at the convention as a state superior chapter and, after being judged on the quality of 15 activities it hosts during the year, was classified as a gold chapter. Only 21 of over 200 chapters in Minnesota received the latter honor.
For its craft fair last December, the CHS chapter was also a Models of Innovation: Building Communities finalist. Chosen at the convention to be included in the top three, the initiative will go on to be judged at the national convention in Indianapolis this November.
Overall, FFA programs and events like the state and national conventions prepare students for whatever path beyond high school they may take, Cink said.
"You learn so much, not only about the agriculture industry and how everyone has a place in it, but you also learn skills that you will need after high school, such as leadership skills, skills for working with others, employment skills and self-advocacy. Cleveland's ag and FFA programs prepare anyone for any career they choose."
Above: FFA members on the University of Minnesota Campus during the FFA convention in April. In the center, ninth from left, is Katie Cink.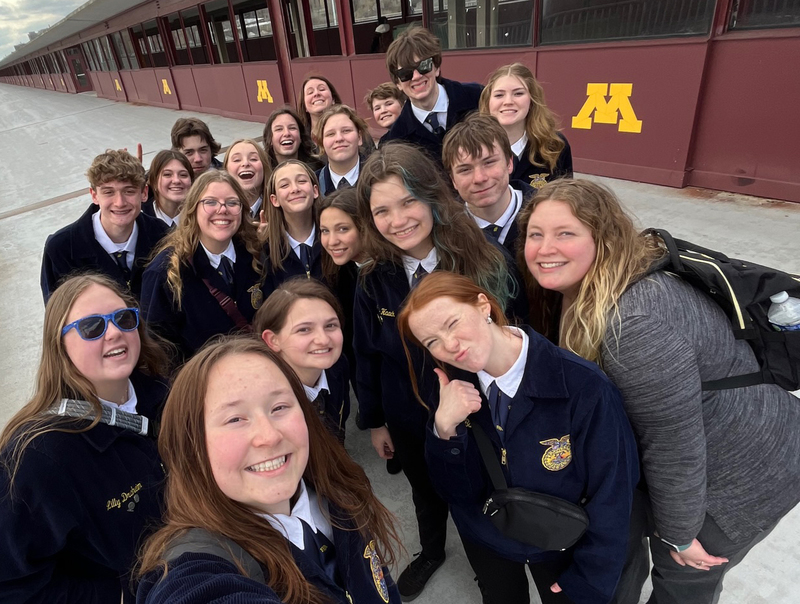 FFA members on the U of M campus. At right is instructor Kelly Susa. At far left, with the blue shades, is Lilly Draheim.