With a foray into section softball playoffs as far as any Cleveland team has ever traveled…and a respectable second place in the Valley Conference too…it was a successful spring for the Clippers, despite a delay due to snowy weather and coming into the year without tons of experience in the pitching circle.
The team put the finishing touches on its effort with an awards banquet, which was held in the school commons on June 25.
"We celebrate the end of the year and a great group of kids and a pretty fun season," said head coach Mike Barten, who presided over the ceremony.
Voted by the Clippers to take home the Most Valuable Player Award was shortstop Sophie Shouler (third from right above). With a consistently hot bat, the senior was typically the top of the order and often grabbed an extra base. Defensively, she covered a lot of ground and was the infield leader.
Shouler was also voted by her peers to receive the Defensive MVP award and was picked by Valley Conference coaches to be a member of the All-Conference First Team. For her efforts in the playoffs, she also earned an All-Section Award.
As it did in 2022, the offensive MVP award went to junior power hitter Cassandra Connor (second from right). She also was an All-Conference Honorable Mention.
"We look for great things from her next year," Barten said.
Senior Lexy Waldron (second from left) was named the team's Most Improved Player. Waldron had a strong bat and played a solid left field as well.
"There were a number of girls who had votes," Barten said. "There were some great selections, but they got it right. I didn't give her much for chances last year considering what she did this year."
Senior catcher Harley Connor (left) was a member of the All-Conference Second Team. She and senior outfielder Emma Sweere (center) earned Barten's Coach's Awards.
"For me, I look at everything," he said. "These two girls never complained, were always leading their team, whether it by words or by actions."
Senior pitcher Hailey Plonsky (third from left) was also an All-Conference Honorable Mention.
"I failed miserably last year developing pitching," Barten said. "We relied on Emily Kern a lot. So going into this year, we had a huge question mark in the circle, but Hailey Plonsky saved our season. She came in and did a fantastic job."
Plonsky was also voted on by her teammates to earn the Spirit Award.
"She is never in a bad mood," Barten said. "She's always uplifting her team, no matter what the situation is."
Senior centerfielder Kaylee Karels (right) was solid of a centerfielder as the Clippers have ever had. She was voted by the Clippers to win the Hustle Award.
"Even if it was just in practice, going from station to station, obviously on offense doing what she needs to do to take a base and then defensively doing everything possible to stop the ball."
Junior Laci Hollerich made the All-Conference First Team. She played first base.
For her performance during the section tournament, eighth grader Kiera Schipper, who played third base, won an All-Section Award.
Barten also noted that Emily Kern, who graduated in 2022, earned an All-Section Award last year.
Along with the award winners, earning letters were juniors Olivia Shouler, Lilly Lamont, Mariah McCabe and Greta Hahn, sophomores Ava Hahn and Lacey McCabe and eighth graders Delaney Thompson and Kaitlyn Flowers. The same group, the entire section team, also earned All-Conference Academic Awards, and as a team, they earned Academic All-State gold, the highest ranking.
Harley Connor, Plonsky, Shouler, Waldron and Sweere earned Academic All-State individual awards. Karels missed the honor by just a small fraction.
"Talk about student athlete," Barten said. "These girls are really good in the classroom."
Season recap
This spring, the weather slowed down the season more than it ever has, at least in recent history, and for too long, the school gyms and the Township Hall were the Clippers' practice fields. They had one practice outside in the parking lot before they had a game and then had had two weeks back inside again.
"Seniors, I wish we would have better weather for you in your last year, but you guys did a great job playing through it all," Barten said. "For the rest of you girls, it can't get any worse, so next spring, we're hoping right away, in the middle of March, we can get outside. But thanks to all of the girls for being flexible. Thanks to the older girls for hauling around the younger kids."
With a come-from-behind conference win at Truman in their season opener Clippers got off to a good start.
"It told the story of what of what the season was going to be: that these girls are scrappy," Barten said. "They're not afraid to get down on the score and they're going to battle back."
In the following game The Clippers again battled back but lost in 95-degree heat in 11 innings at Lester Prairie. Lamont threw nine innings in relief.
"Lilly did a fantastic job," Barten said. "It gave her confidence, and it gave me confidence too knowing we had another girl who could throw. We look for great things from her next year."
Following that game, they fell hard at home to perennial power Randolph and eventual conference champion LCWM.
In a road trip to Welcome to play Martin County, the bus hit a turkey on the way down. The Clippers had to switch buses and only were able to get a little warmup but still won, 2-1.
"The girls showed their poise and came up with a good win," Barten said.
Later in the season, defending state champion Nicollet came to town for a double header, but the Clippers sent them back down Highway 99 with two decisive losses.
"That you can do that to the defending state champion was very impressive," Barten said.
That was the start of a waltz through the rest of the Valley teams for a silver finish. In mid-May, the Clippers took on host Sleepy Eye Mary's, ranked in the top one or two in the state, and only lost 4-2. A day later, the host Clippers defeated sixth-ranked New Ulm Cathedral, 2-0. The Greyhounds would eventually be the section champions.
The Clippers came out on the short end of a slugfest against MCW at Caswell in the Valley Showcase.
"We battled the whole game, and I think it was a nice game to play before sections.
In section play, the fourth-seeded host Clippers easily beat GHEC/ML/Truman but were edged 7-6 by Springfield. In their first game on Saturday at Caswell Park, they topped Nicollet.
"We beat them twice early by a lot, and it's hard to come back to beat them, but the girls battled," Barten said.
The Clippers beat Sleepy Eye in the second game on Saturday, putting them in post Memorial Day play, but two days later, they again lost to Springfield, this time 2-0, to end up as they were seeded: fourth.
"A play here or there, a hit here or there, and then we get to play later," Barten said.
The Clippers blasted 14 home runs throughout the season, including five in Madelia where Sophie Shouler started out that game with one, and then in the third inning, Waldron hit one, Hollerich hit one, Sophie Shouler hit another one, and Cassandra Connor hit one.
Sophie Shouler ended the year with five homers, tying Emily Kern's record last year. Waldron hit three, Sweere had two, both in one game, Cassandra Connor had two, and Hollerich and Harley Connor each had one.
JV
Rich Kern, who coached the JV, said the number of girls participating was good and that he really appreciated working with them.
"It was good to see you develop and grow. I think every game we got a little better, our hits got better, our fielding got better."
Kern said he could not make all the games and so appreciated the help of parent Brett Bartell.
Assistant coach Sandi Hollerich said the JV girls were flexible with her and Barten working with them in practice and then Kern coaching them during their games and she occasionally stepping in when they didn't overlap with the varsity.
"Thank you for being so receptible to the craziness that is softball in Cleveland."
Barten thanked coaches Hollerich and Kern and also Kern for setting up all the behind the things like buses and umpires. He thanked the parents for getting the food for the banquet, his wife for carrying their household load while he was away at practices and games and this author.
Barten told team it would be tough next year filling the spots left by the six vacating seniors.
"Keep in mind what you have to do to try to get better to equal what the seniors did."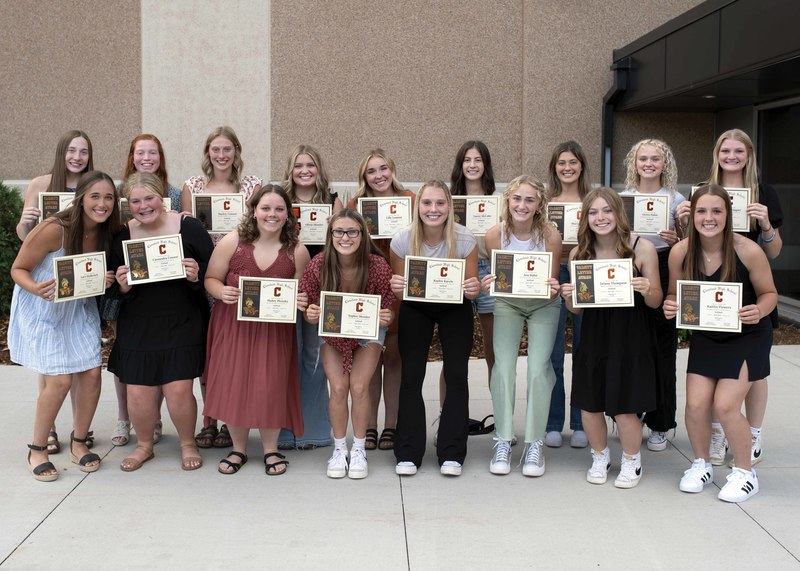 Letter winners included, from L-R, front row: Laci Hollerich, Cassandra Connor, Hailey Plonsky, Sophie Shouler, Kaylee Karels, Ava Hahn, Delaney Thompson and Kaitlyn Flowers. Back row: Lexi Waldron, Emma Sweere, Harley Connor, Olivia Shouler, Lilly Lamont, Lacey McCabe, Mariah McCabe, Greta Hahn and Kiera Schipper.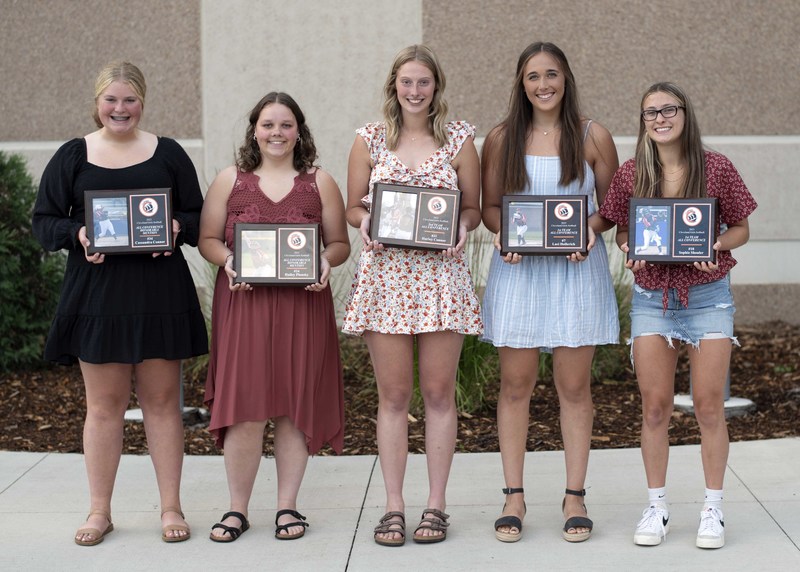 Earning All-Conference awards were, from L-R, Cassandra Connor (Honorable Mention), Hailey Plonsky (Honorable Mention), Harley Connor (Second Team), Laci Hollerich (First Team) and Sophie Shouler (First Team).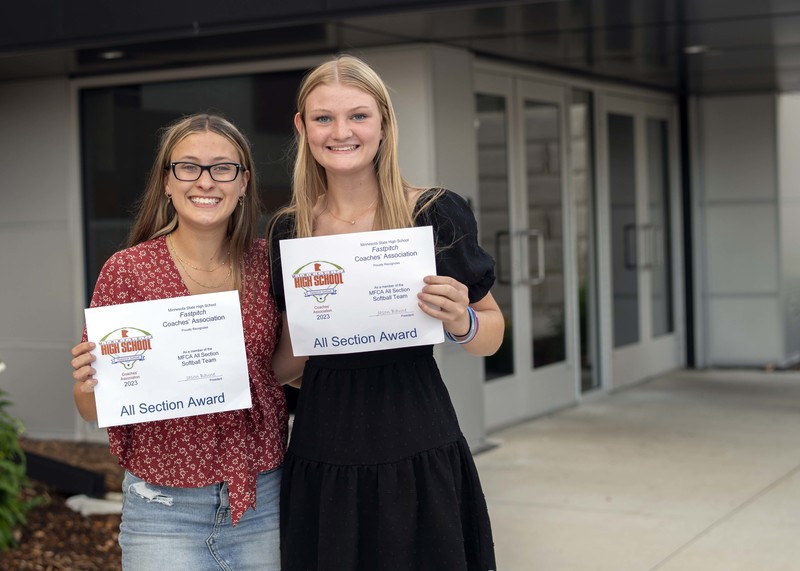 Sophie Shouler and Kiera Schipper earned All-Section Awards.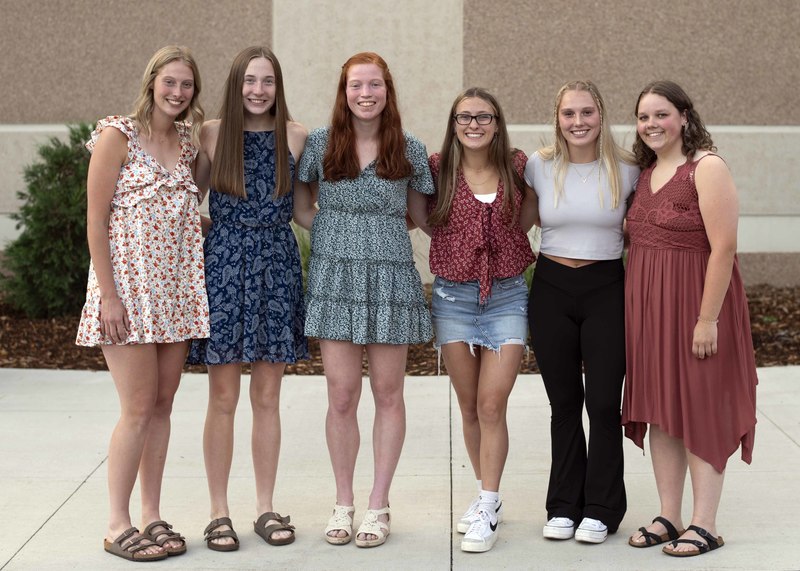 The seniors left their mark on Cleveland softball. They are, from L-R, Harley Connor, Lexi Waldron, Emma Sweere, Sophie Shouler, Kaylee Karels and Hailey Plonsky. "Wonderful kids," said head coach Mike Barten. "Parents of these girls, be proud."