Although they came within a bat swing of a victory once or twice, the U19 Legion Post 207 baseball team struggled through the summer with a 13-0 record.
The Clippers' season ended in Le Sueur last Friday with a 13-1 playoff loss to Holy Family.
But summer is not so much about dubs and els but rather about gaining experience, and head coach Alec Rogers' 16 players all upped their skills since the season started on June 8.
First at bat against the Holy Family Fire, Caleb Connor, who will be a freshman this fall, scored the Clippers' lone run after hitting a line drive to center field, stealing second and scoring when Kale Kelley's grounder got through the shortstop.
But the scorching the Clippers with a dozen hits and taking advantage of a pair of miscues, the rest of the game was all Fire.
Colin Krenik's single to right field in the fifth followed by Nathan Seeman's double to right field were the only other Clipper hits, and the game ended in four and a half innings.
Kelley started out on the hill and lasted two thirds of an inning. Kyle Connor came in in relief for two and a third innings. Gabe Sullivan tossed the bottom of the fourth.
The Clippers struck out eight times. A highlight for them on defense came in the third when Tanyon Hoheisel made a running catch in center field and caught the runner at first off base for a double play.
For the season, Sullivan led the Clipper offense with nine hits. Kyle Connor and Seeman each collected seven hits. Hoheisel had six hits.
Pitchers Hoheisel and Kelley recorded the most strikeouts. Both whiffed 16.
Others who played on the Legion team this summer were Adam Robinson, Alex Johnson, Alexander Garcia, Blake Gibbs, Bode Bartell, Derek Miller, Kacyn Zuehlke, Killian Kunkel and Mason Kluntz.
Above: Shortstop Kale Kelley on the throw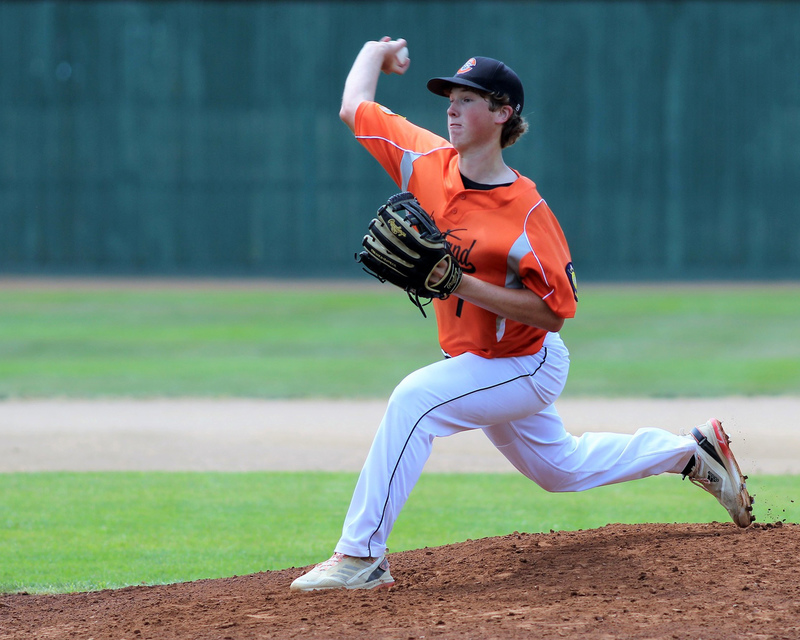 Colin Krenik on the receiving end of a double play (photo courtesy of Patty Sullivan)