Ranging from a slim 70 pounds all the way up to a hefty 250, 45 6th through 12th graders attended summer football camp last Monday through Friday from 6:30 to 8:30 p.m.
During a week that was the hottest of the year so far, evenings started in the new gym, but as the sun lowered, temperatures subsided, and the Clippers—in helmets but not pads—put in quality time on Dave Krenik Field.
Inside or out, they rehearsed the fundamentals of blocking, tackling, throwing, catching, running and conditioning.
"Our goal is to teach our athletes the correct techniques and practice habits that will allow them to reach their full potential," said head coach Erik Hermanson. "But they learn much more than just football. We teach them teamwork, consideration of others, self-discipline and how to attain their potential in football and life."
It was clear that many kept in football form since their season ended last October. Many had three basketball scrimmage games during a tournament on Thursday but still showed up ready to go for camp an hour after the last game ended.
"We had an awesome off-season strength and conditioning program headed up by Matt Miller and Larry Walechka," Hermanson said. "Not only is everyone a year older, but they are bigger, faster and stronger."
Hermanson acknowledged the Clippers are still very young, but many can springboard from time they put in on varsity last year, even a few freshmen and eighth graders who had to play up.
"We do return players who have many varsity games under their belt. This experience is going to pay off in the long run. We need to work together as a team and have a group that trusts in the process of Clipper football success."
Only four seniors were in camp: Gabe Sullivan, Brady Bostic, Ian Vlasak and Carter Barto. Barto, an end, would have been a real help to the Clippers this fall, but he is still recovering from a knee injury and will not be able to compete.
Six graders this year have the option of going up to the junior high team or playing with the younger team in the Mankato league.
Blake Lyons, who will be in his third season as the starting quarterback, is in the hopes that more players show up for the first practice on August 14.
"Just come out and at least try it. It might be your thing. You can work when you're older, and you will regret not playing when you are older too."
Hermanson said that players should continue to workout in the 17 days before the first practice.
"They should keep coming to morning workouts and captain's practices and also be doing everything that they can on their own to come to practice ready to improve and have an exciting season."
Helping with the camp were assistant coaches Kyle Atherton, Walechka, Miller and Brady Hahn and former players Carter Kopet (GAC), Cade Olson (UW Stout) and Jordan Phillips (UW River Falls).
Above, Nick Simonette gets set to shove the blocking sled.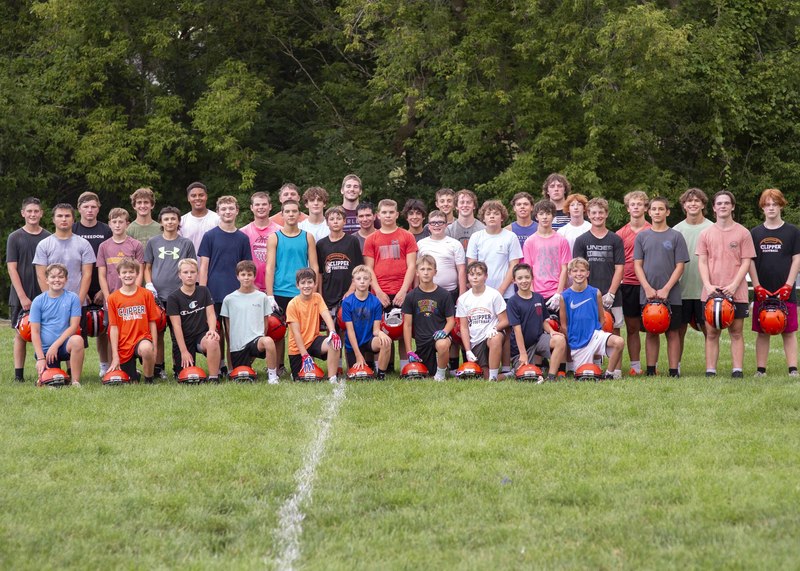 Carson Lyons during the handoff drill.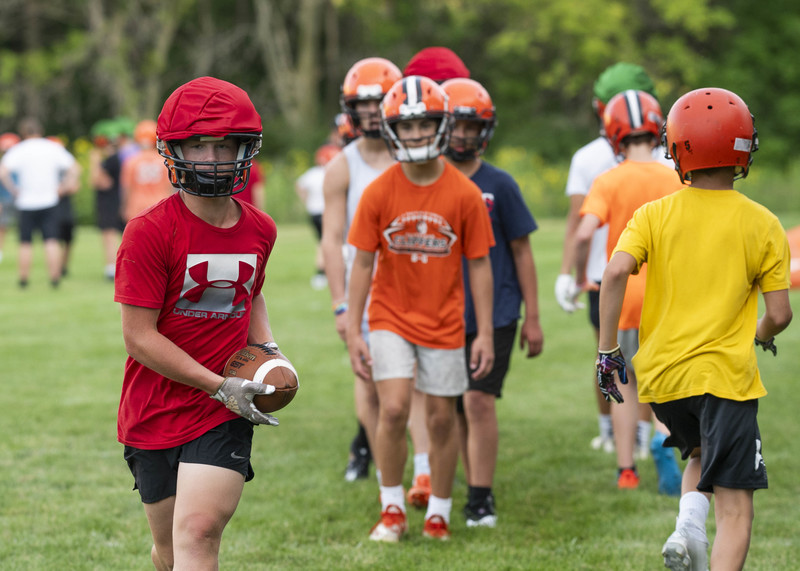 Camp attendees came together for a final huddle on Friday.