Doe a goat, a female goat…
The term for her goat's gender was among the first things that Jasmine Wolf had to learn before she exhibited her seven-month-old goat Abby in the 4H meat goat show at the Le Sueur County Fair on Friday morning.
As she is going into third grade this fall, it was her second and last year exhibiting as a Cloverbud, a 4Her in grades K through second.
Older sister Taylor Wolf, a freshman, also participated in the goat competition. She exhibited a breeding doe kid and a junior yearling doe. She did a good job keeping both of them in control, but full of fun and with a mind of their own, goats are mischievous creatures, she said.
"They're spunky. They try to eat everything. Every time I open the gate, they try to get out. We put a teeter-totter in their pen to keep them busy."
But goats are affectionate too, and that is why she likes raising them.
"They jump up on you and always want you to pet them."
Later on Friday, at the sheep show, siblings Jacquelyn Heldberg, a fifth grader, and Marshall Heldberg, a freshman, won for the second year in a row their age class in showmanship, beginner and intermediate respectively. The two were judged on how well they controlled and showed off their animals.
Besides the showmanship competition, the two were in the showring a lot during the competition, displaying sheep in different classes and each having the judge evaluate a bag of wool from their sheep. Both also participated in the lamb lead, where participants wear wool clothing as they lead their sheep around the show ring,
The goal of lamb lead is to promote the wool industry. It provides a way for 4H kids to become comfortable speaking in front of judges, gaining confidence in explaining how wool is an excellent material for clothing and how it has changed over the years, making it even more wearable and easy to care for.
It was the sixth year in the sheep project for Marshall. In addition to his family's large flock, he has a smaller flock of his own. He likes learning about the industry and the best practices for raising sheep. Jacquelyn likes feeding their bottle lamps during lambing season.
Saturday was a good day for the Flowers sisters. Natalie Flowers, a sixth grader, earned the beginner showmanship champion for the second year in a row. Kaitlyn Flowers, a freshman, was the intermediate showmanship champion while her pig was the overall champion breeding gilt. Their second-grade sister Julia Flowers was also in the ring as a Cloverbud.
Natalie was also the beginner beef showman champion at the fair this year, but she said cattle are easier to show than pigs.
Samantha Baker also participated in the 4H swine show.
A trio of Cleveland Pioneer 4H Club members brought horses to the fair.
Seventh grader Allie Anderson's horse Abby, a quarter horse bay (darker brown), earned a blue ribbon while she was the reserve champion in the horse show's intermediate interview competition.
Amelia Baker showed her mare "Honey" while Jasmine Wolf showed her paint gelding pony "Rufus."
Above: For the lamb lead, Jacquelyn Heldberg wore a 100 percent wool plaid dress that her mother Rachel sewed over two decades ago when she was a 4Her participating in the clothing project.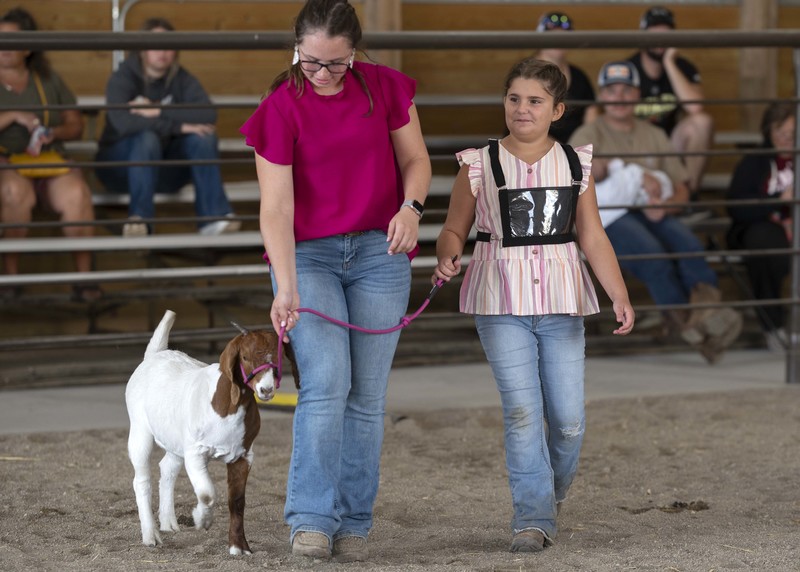 Jasmine Wolf and her 4H helper during the Cloverbud portion of the goat show.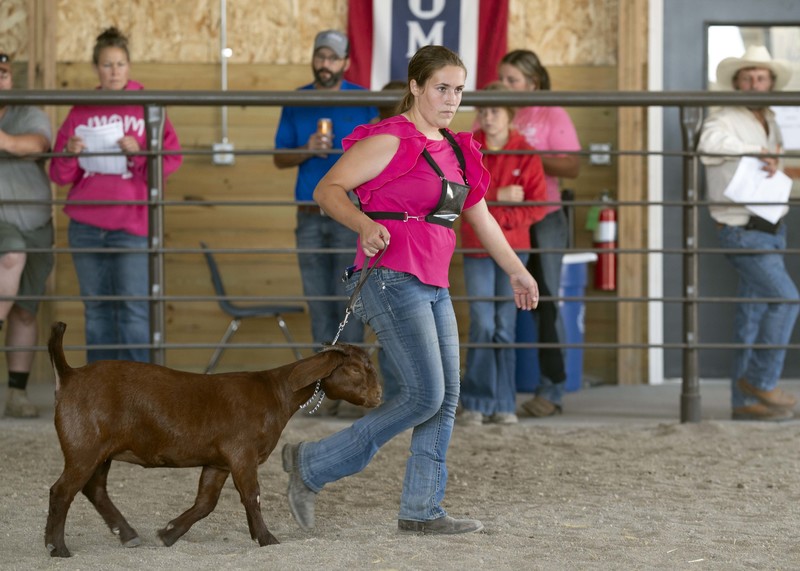 Taylor Wolf guides her goat around the showring.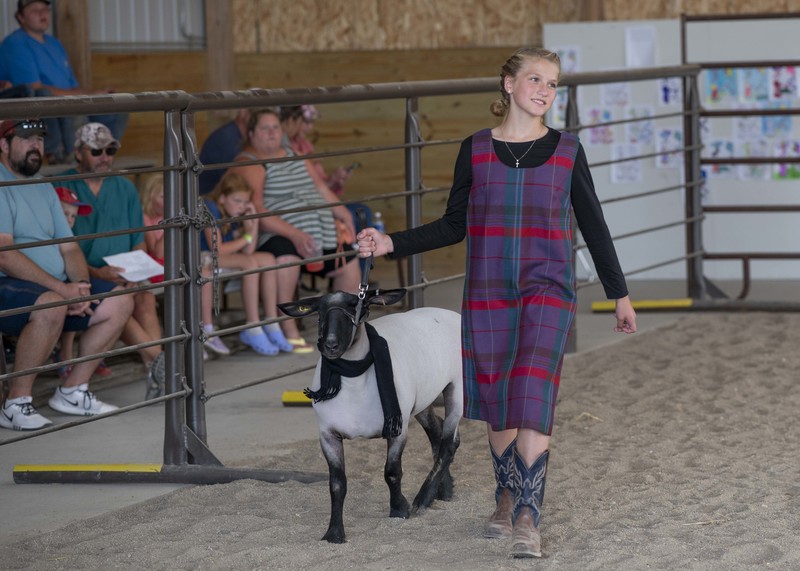 Jacquelyn Heldberg walks her yearling ewe, Taylor in the lamb lead.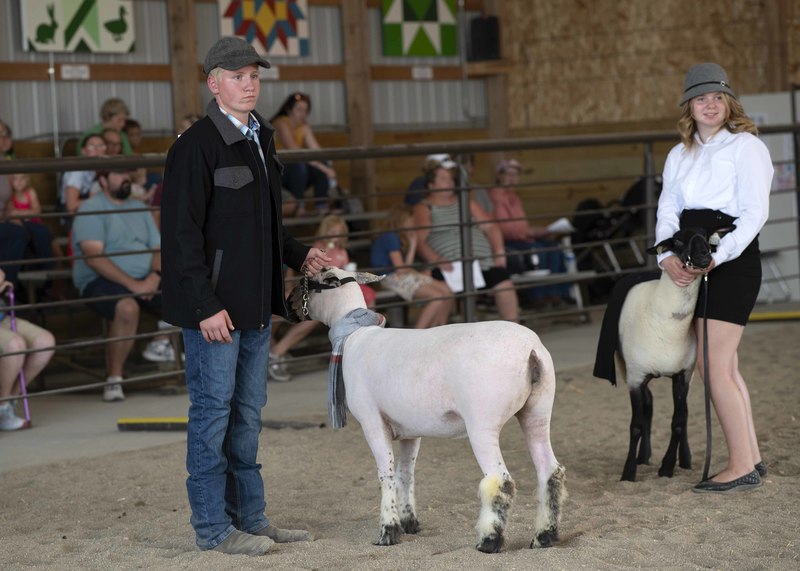 Leading his yearling ewe, Echo, Marshall Heldberg wore a 65 percent wool jacket and wool hat for the lamb lead.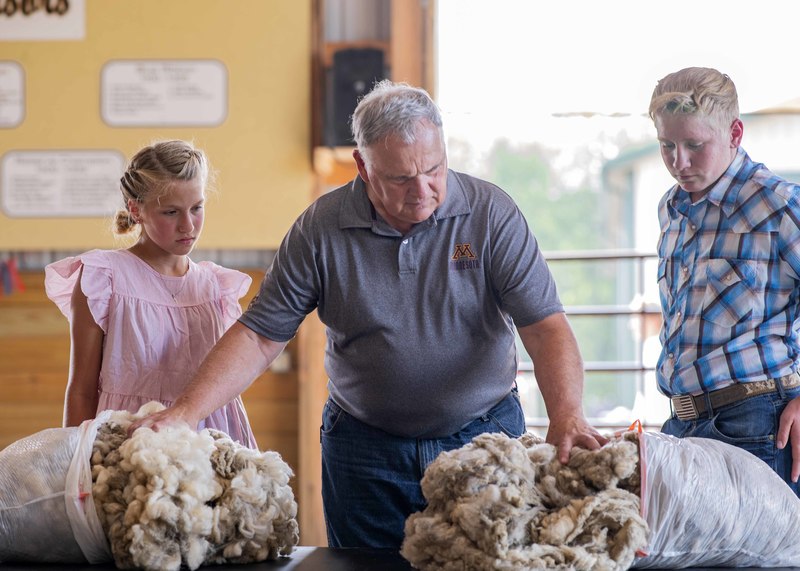 Two bags full. Jacquelyn and Marshall Heldberg also competed against each other in the wool quality evaluation.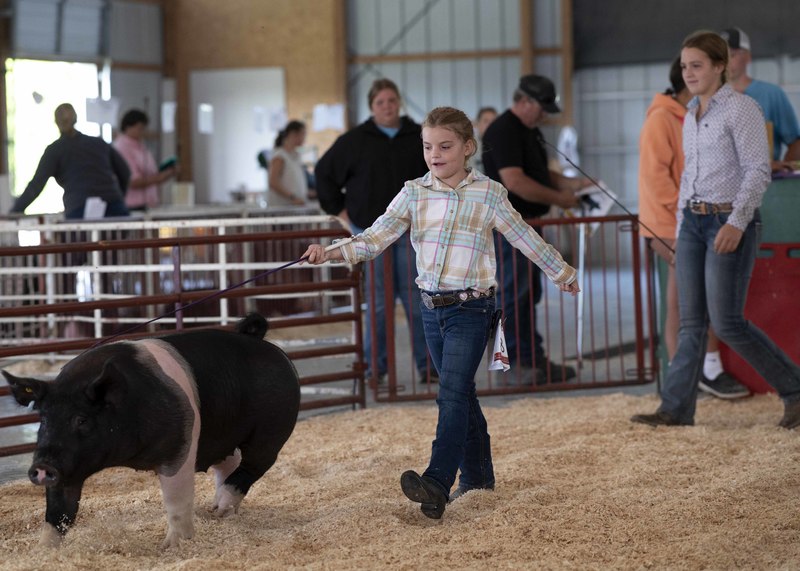 Cloverbud Julia Flowers guides her pig around the show ring.
Natalie Flowers and her market barrow.
At 322 pounds, Samantha Baker's market barrow was a real meat wagon.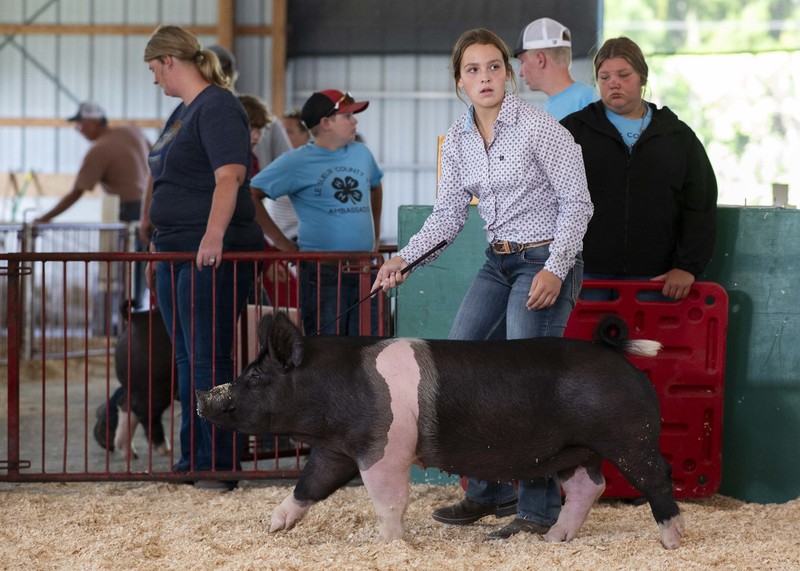 Kaitlyn Flowers and her champion breeding gilt.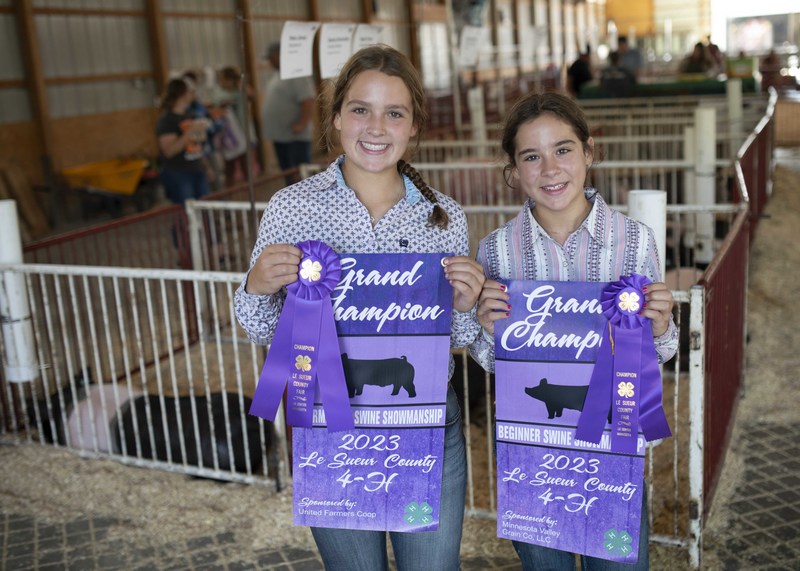 Katelyn Flowers and Natalie Flowers both won champion showmanship in their age bracket.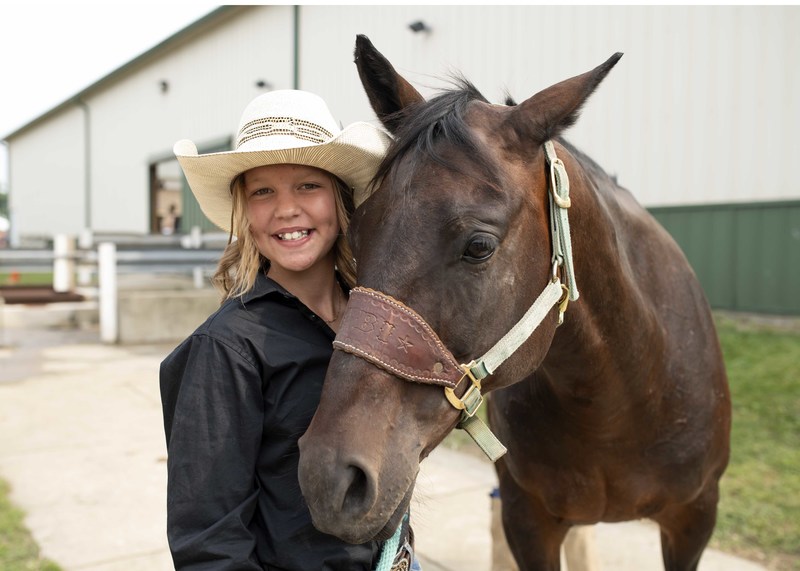 Allie Anderson and her horse "Abby.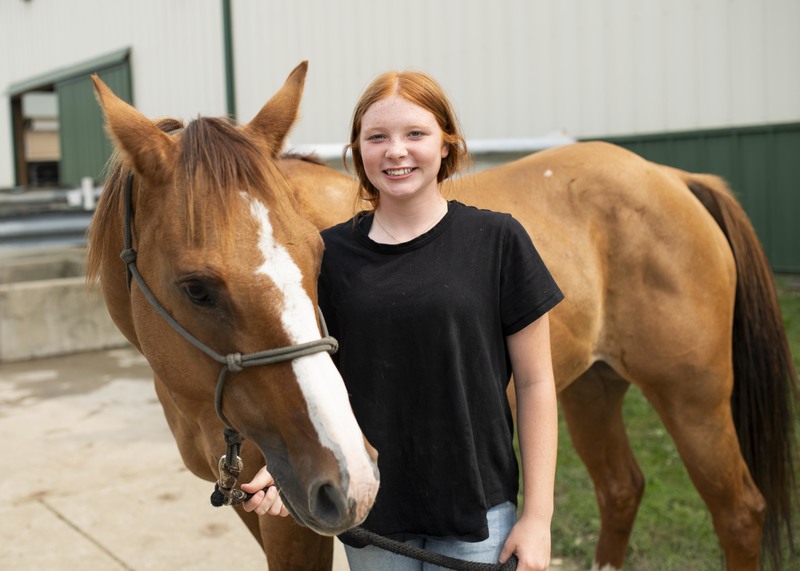 Amelia Baker and her horse "Honey."