Starting the season out on a high note, the C-Squad volleyball girls rolled over visiting New Ulm Cathedral 2-0 on Thursday.
Freshman Sajen Grandaw swatted down a kill to break a 5-5 tie in game one. The Clippers took an 8-5 lead when the Greyhounds shanked an Amelia Chmiel over.
Grandaw airmailed an ace serve, and freshman Anna Lamont (above) spiked for a winner to put the Clippers in front 11-7. Later, with her team up 12-10, Grandaw tipped over an ace, and Chmiel, also a freshman, delivered back-to-back service aces in a five-point spurt for a 17-10 advantage.
NUC rallied down the stretch to pull within four, 20-16, but Nina Lassiter broke up the run with an ace block. The game ended 25-17 on a freshman Cheyenne Lotspeich kill.
Greyhound errors gave the Clippers a 3-0 lead in game two, but Cathedral tied the game 3-3 after a kill, an ace serve and a center line infraction.
A serve into the net ended the run, and it was pretty much all Clippers after that. Chmiel uncoiled for another pair of ace serves to put her team up 6-3. The Greyhounds had problems keeping the ball up on their end of the court and in bounds on the Clipper side.
At the net, Lamont stretched for an ace block at Clipper point 16 and an ace tip for Clipper point 22, and the game ended 25-11 when a Greyhound hit landed on the other side of the boundary line.
The C girls return to action on Tuesday when they travel to Janesville.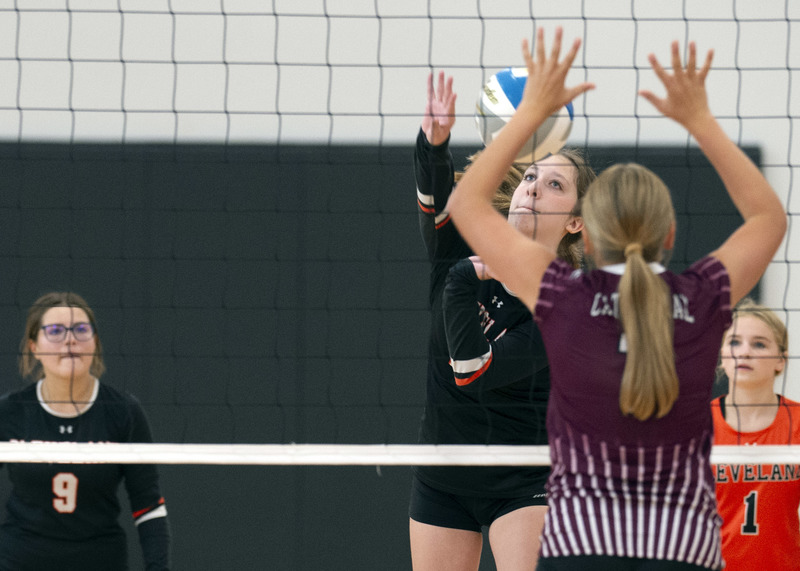 Sajen Grandaw battles at the net.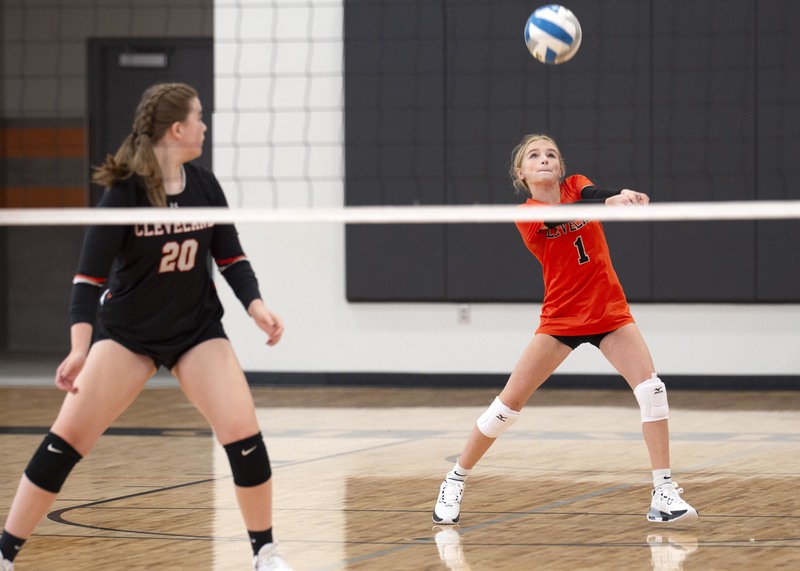 Amelia Chmiel on the serve receive.