A match against New Ulm Cathedral is the traditional start of the Clipper volleyball season.
Last year, the determined Greyhounds beat the Clippers in five, narrowly winning the final game 16-14 to lead the series 8-7.
Maybe getting an early wakeup call was a good thing for the Clippers though as they went on to have their best season ever.
But the 2023 Clippers—a blend of something old and something new—started their year on a high note, downing the visiting Greyhounds 3-0 on Thursday.
"New Ulm is very, very scrappy defensively," said head coach Dave Nixon, who is now in his second year at Cleveland. "Our blocking was great, our serving was great. Our hitting was pretty good."
First on the court were the front row of Laci Hollerich on the right, Maya Lassiter in the middle, and Melia Sathoff on the left and the back row of setter Greta Hahn, strong side hitter Ava Hahn and libero Savannah Meyer.
Game one opened with a Sathoff kill, and Hollerich posted an ace block for a 3-0 Clipper lead.
It was the start of a good match for Hollerich, a 5-9 senior who had been struggling to find her role over the past three seasons behind big hitters like Lexi Waldron and Sarena Remiger in the middle and Harley Connor on the right side, all who graduated last year, as well as junior Ava Hahn, who led the Clippers in kills last year, 5-10 freshman Sathoff, who worked her way into a starting role in 2022, and Emily Kern, who graduated in 2022 and now plays Division II volleyball.
"It's been a rocky road since my freshman year, so going into this game, I was extremely nervous," Hollerich said. "But once I got out there, it was like 'I can do this.'"
Nixon said that many teams don't have strong right-side hitter, and so Hollerich adds a dimension to the Clipper offense.
"When we have a very good right-side hitter who can just hammer the ball, a big offensive threat, I think that puts a lot of pressure on their middles. So many teams have two good outside hitters, but a lot of teams don't really have that strong right-side attack, and their middles are late getting there, so I feel that Laci is finally playing her best position, and so I am looking for big things from her. She did well tonight. She was very dynamic with her hitting."
Later, Jocelyn Bartell, in for Lassiter, swatted down a kill, and the Clippers led 8-4.
The resolved Greyhounds did a good job digging up Ava Hahn's hits, but her sister Greta's fake set landed in an open slot on the NUC side of the court for an 11-4 Clipper lead.
"We had to mix it up," Nixon said. "We couldn't keep swinging the same stuff. Sometimes a good player wants to hammer the ball even harder, but that's when you have to mix in your tips and your roll shots to keep them guessing."
The Greyhounds scored the next three points to keep in the game, but the brief rally stopped when they contacted the net. Sathoff followed up with a kill that put the Clippers in front 13-7.
Cathedral loitered around though to pull within three, 17-14, but Ava Hahn said enough was enough and slammed down a winner. It was the start of a six-point run that featured a Lassiter ace serve, a Bartell ace block and a Hollerich kill.
The game ended 25-17 when Ava Hahn's hit caromed off the hands of a Cathedral back row player.
Cathedral started game two with a winner, but Hollerich laid down a kill for 1-1 tie. Ava Hahn mixed a kill with an ace tip, and Greta Hahn added an ace tip as well.
But the Greyhounds kept pace for a 5-4 advantage before missing on a couple of hits. With a Bartell kill and an Ava Hahn ace tip in the mix, the Clippers went on a five-point spurt that put them in front 9-5. It was a lead they would never relinquish.
"We had fewer hitting errors than they did," Nixon said.

Down the stretch, Hollerich and Ava Hahn each stretched for an ace block and Sophie Perkins served up back-to-back aces. The game ended 25-15 on a NUC hit over the boundary line.
Game three was a back-and-forth affair. The Clippers went up 3-2 on an Ava Hahn kill and kept the lead from there. It ended 25-20 on an Ava Hahn ace tip.
With 10 kills, Ava Hahn led the offense. Sathoff and Hollerich each had four kills. Greta Hahn propped up 17 set assists.
Ava Hahn scooped 11 digs. Sathoff scraped nine digs. Meyer, who is following in the footsteps of graduated Emma Sweere, lifted eight digs. Greta Hahn and Chloe Anderson each had six digs.
Greta Hahn and Lassiter each had one solo block. Ava Hahn had four block assists. Hollerich, Perkins and Lassiter each had three block assists. Bartell had two block assists.
"We blocked really well," Nixon said. "That was key. New Ulm has players who can hammer the ball, and they mix in tips and rolls, but our blockers did a good job of getting up there and taking some of that away."
Especially considering it was their first match of the season, the Clippers were excellent from the service line. Sathoff was 19 for 19 with one ace. Perkins landed all 17 of her serves safely with a pair of aces. Meyer was nine for nine, while Greta Hahn and Lassiter each were seven for seven.
The Clippers travel to Janesville on Tuesday for another non-conference match.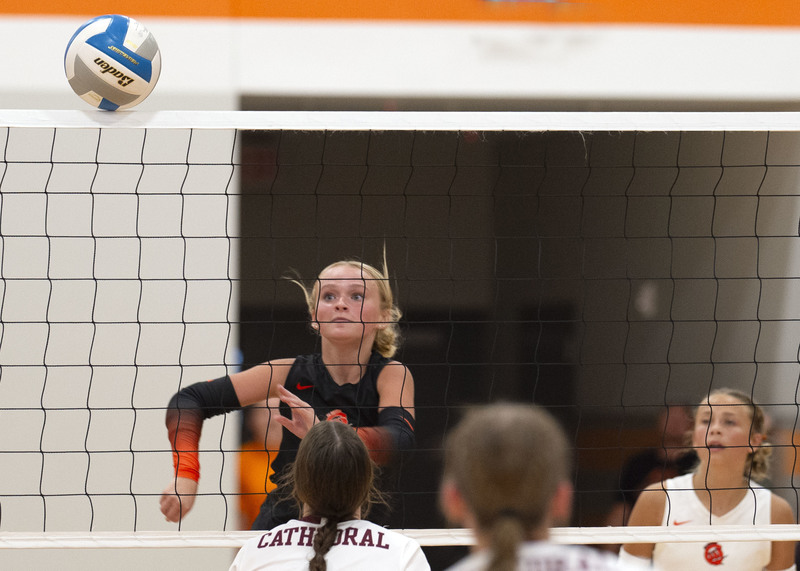 It was jersey night in the student section.