Coming off a tough loss to Sibley East on the road, their first of the year, the C-Squad girls vaulted back when they overcame a second game loss at St. Clair on Thursday and won the rubber game.
In Arlington, the Clippers lost the first game, won the second but then fell narrowly, 17-15, in game three.
In game one at St. Clair, Anna Lamont's kill put the Clippers up 16-12. The Cyclones won the next point but errored twice, and with a Valentina Rohlfing ace serve, the Clippers led 19-13.
Down the stretch, Amelia Chmiel dished up an ace serve, for a 22-14 advantage. The game ended 25-16 after three-straight St. Clair miscues.
But the Cyclones upped their intensity in game two. Isabel Duron's kill put the Clippers up 2-1, but that the Clipper offense cooled after that. The Cyclones scored 14 of the next 17points to take a commanding 22-11 lead.
Rohlfing slapped down a winner, and Chmiel served up an ace during a four-point Clipper spurt, but the game ended 25-14 when the Clippers stepped on the center line.
Kaitlyn Flowers' ace tip put the Clippers in front of the rubber game 2-1. Rohlfing swung for a kill, and Duron hit across the court for a winner for a 5-2 lead the Clippers never relinquished.
After a Lamont kill, a pair of kills and an ace serve off from Cheyenne Lotspeich, the Clippers won 16-10 on a Flowers service ace.
The C girls host Martin County West on Thursday.
Above: Isabel Duron and Sajen Grandaw stretch for a block during the St. Clair match.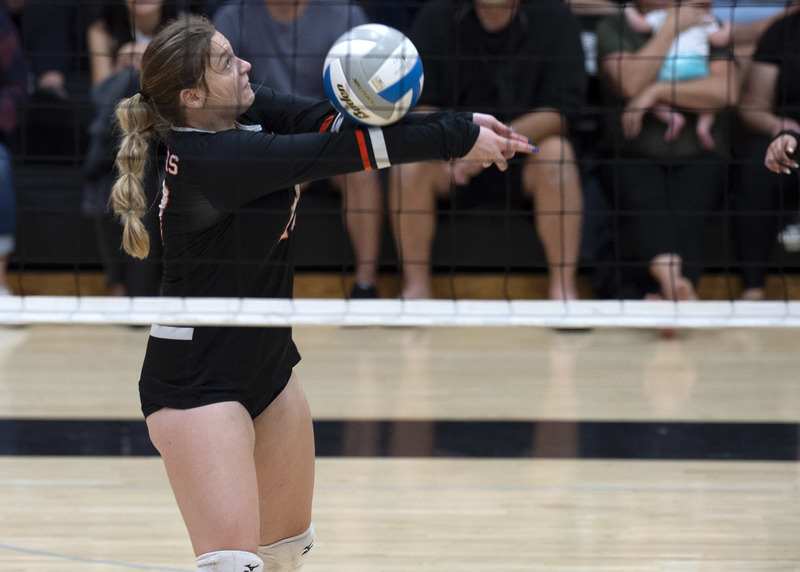 Cheyenne Lotspeich on the bump at St. Clair.