Ranked fifth in Minnesota Class A football, undefeated Mayer Lutheran rolled over Cleveland 47-6 on Thursday.
With Jackson Meyer stepping in at quarterback for the injured Alex McCabe, it was a similar situation to last year when the Clippers lost to the Crusaders 54 to 0, but Thursday was a superb fall day on the Clipper hill while last year a thick, wet snow fell on Mayer Lutheran's field.
"We played by far the toughest, most physical most gifted team that we will play this year…that anybody around her will play, and that was not the problem," said head coach Erik Hermanson. "We just didn't keep our pose and our confidence we had in our good wins. We had mental breakdowns. It wasn't a toughness question, and that's good. That's a good sign for us going forward."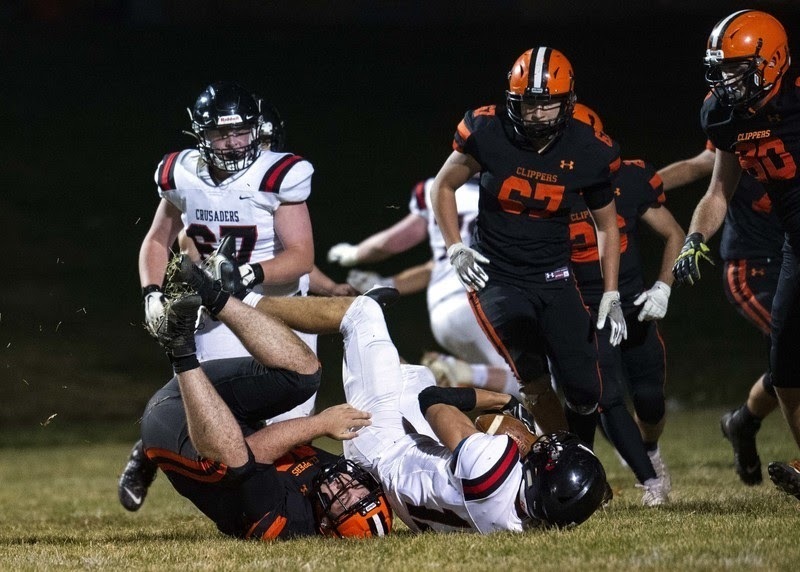 Cameron Seely rolls to the ground for the tackle.
Getting behind the Clipper defense, the Crusaders scored five passing touchdowns in the first half and added a field goal for good measure. Cameron Seely blocked one of the PAT kicks. Meanwhile the Crusaders stymied the Cleveland's offense, holding the Clippers to six three and outs while snaring one Meyer pass. The halftime score was 37-0.
Stepping it up on defense after the break, the Clippers held Mayer Lutheran to a pair of three and outs and then scored on the first play of their third possession when Meyer hooked up with Tyce Shook for a 54-yard touchdown catch and run up the middle.
But the Crusaders stopped the Blake McVenes PAT run and then returned the ensuing kickoff for an 85-yard touchdown. The PAT kick was wide off the mark for a 47-6 Mayer Lutheran advantage in the third quarter.
In the final frame, Mayer Lutheran missed a field goal while the Clippers went three and out and turned the ball over on an interception before the clock drained.
Meyer completed five of 18 pass attempts for 66 yards. Ben Holden caught one pass for 8 yard while Isaac Mueller, Carter Dylla and Shook accounted for the other three completions. Mayer Lutheran limited the Clipper ground game to just a handful of yards.

Ben Holden took this screen pass 8 yards.

Linebacker Eric Rohlfing led the defense with six solo tackles and eight assists. Seely had four solos and four assists. Fischer Knish had two solos and seven assists.
Jackson Meyer corrals a Crusader runner while Eric Rohlfing moves in to finish the play.
The Clippers take on 4-1 St. Clair/Loyola on Wednesday in St. Clair. The 4-1 Cyclones lost to Lester Prairie in their season opener before beating JWP, WEM and Alden-Conger/Glenville-Emmons. On Friday they topped USC 13-6.
"They are talented," Hermanson said. "They are going to throw the ball all over. On broken play after broken play, they make big plays just running all over the field, so we are just have to be disciplined…everyone doing his own job."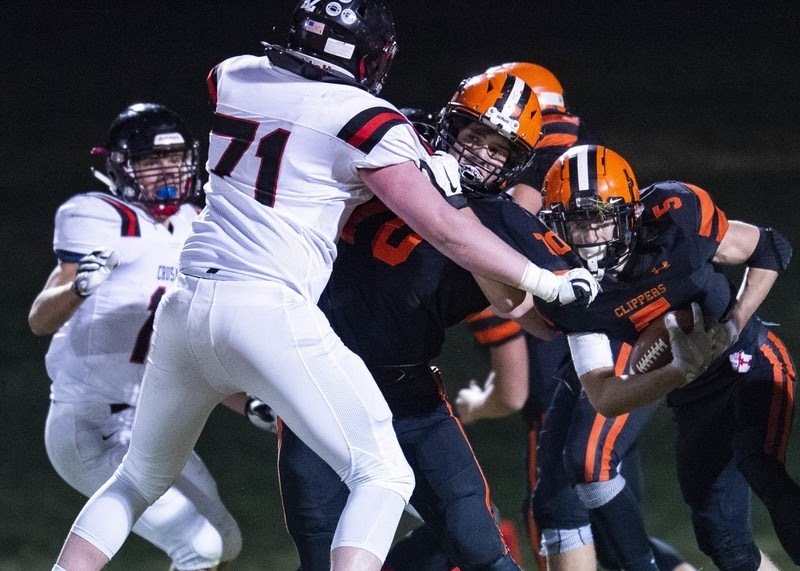 Lucas Walechka blocks for Blake McVenes.

Tyce Shook was able to break free of this Mayer Lutheran defender.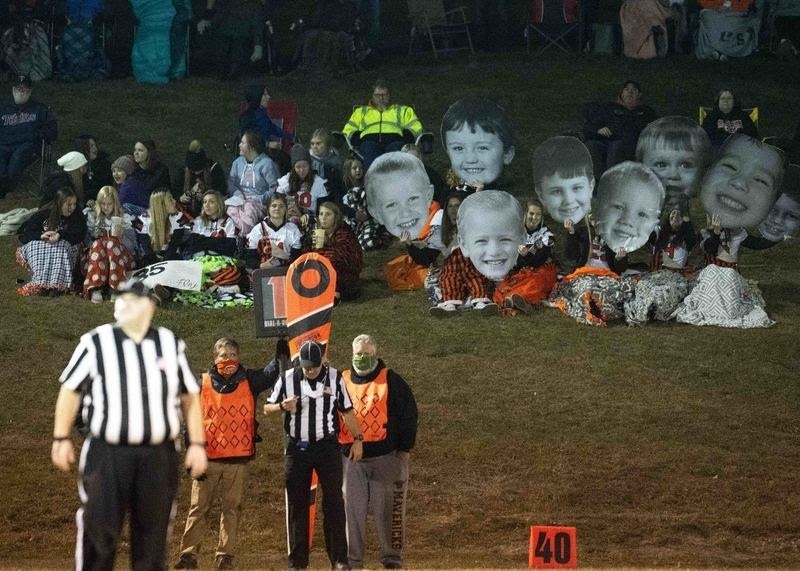 Mild early November weather was only spoiled by the score.

On senior night, the seniors took time to pose with their mothers and a pre-school likeness. They are, from L-R, Ben Holden (Lynn), Jackson Gibbs (Kim), Eric Rohlfing (Cheri), Cameron Seely, Tyce Shook (Ramona), Isaac Mueller (Lori), Alex McCabe (Jennifer) and Blake McVenes (Marie).