Avenging a loss from 10 days earlier, host St. Clair defeated the Clipper varsity boys 76-57 on Friday.
With Cleveland hanging around for most of the 36 minutes, the game was closer than the score indicated, but the Clippers needed to up their defensive post game.
St. Clair's 6-9 junior Derrick Zeldenrust had 31 points.
"We needed to front Zeldenrust instead of playing behind him," head coach Dan Fredrickson said. "He was getting way too deep on some of the high-lows. On some of the weak-side entries he was getting too deep, and early he was getting rebounds."

Despite lackluster shooting, the Clippers managed to beat St. Clair and then Loyola at home, but they needed to improve their offense to win a game like this on the road. Making five of 24 shots from three-point territory, 16 of 27 two-point shots and 10 of 18 free throws, they didn't.
"St. Clair is a good team…the pressure," Fredrickson said. "Their zone is long."
With the Clippers down 4-0, Ben Holden scored on a baseline jump shot, but the Cyclones posted the next four points before Holden scored from inside.
Holden buried a three, and with an and-one shot, Isaac Mueller (surrounded by red on the drive above) made a three-point play too to pull the Clippers within three, 13-10. Later, the Cyclones built an eight-point lead, but the Clippers scored the next six points.
After a Mueller basket with four seconds left in the half, the Clippers, despite only making one of nine three-point attempts and giving up too many steals, trailed by only four, 32-28, at the pause.
"We asked all the guys at halftime if anyone had a shot that they wanted back, and all hands went up," Fredrickson said.
After an Alex McCabe swipe, Holden spun inside for his only points of the second half, and Eric Rohlfing grabbed an offensive rebound and scored to tie the game 32-32 at a minute 20 seconds into the second half.
Mueller drove for a basket to put the Clippers back up front. St. Clair responded to knot the game at 34, but the Clippers went back up by two after McCabe swished a pair of attempts from the foul stripe.
But the Cyclones, who had just one three-point basket in the first half but six in the second, arced a pair of threes to take the lead.
"We wanted to limit the perimeter, and I thought we did a good job of that early," Fredrickson said. "Their shooters didn't get hot until late. We got compacted trying to guard that post in different ways, and the shooters got open."
Mueller's three tied the game at 41, but St. Clair scored from the floor and behind the arc for the next five points. McCabe fouled out with 11:16 left. Elijah Sullivan put in a three to put the Clippers within three, 47-44, but that is as close as they would get as St. Clair scored 16 of the next 19 points before Jackson Meyer hit a three off the bench.
"(Devin) Embacher scored on a three from the corner, and that put the lead from six to up to nine," Fredrickson said. "And from there you could just see it on our guys' faces."
From there, the Cyclones cruised to the triumph.
Holden led the Clipper effort with 17 points and 10 rebounds. Mueller had 16 points and nine assists. Rohlfing had 10 points.
"We've got to regroup," Fredrickson said. "We've got to play better interior defense, and on offense we've got to move the ball a little bit better."
St Clair, Loyola and Cleveland all have two losses in the Valley Conference. St. Clair or Loyola will have an additional loss Monday night as they meet on the Crusader's court.
The Clippers will look to get back on track when they travel to Janesville on Monday. They beat the Bulldogs 67-44 in an earlier contest.
St. Clair 32 44 76
Cleveland 28 29 57
Points 57 (Ben Holden 17, Eric Rohlfing 10, Isaac Mueller 16, Elijah Sullivan 4, Alex McCabe 4, Jackson Meyer 3, Colin Krenik 3)
Assists 11 (Holden 2, Rohlfing 1, Mueller 9, Sullivan 2, McCabe 2, Lucas Walechka 1)
Rebounds 31 (Holden 10, Rohlfing 3, Mueller 4, Sullivan 4, McCabe 3, )
Steals 10 (Holden 3, Mueller 2, Sullivan 4, McCabe 2)
Blocks 5 (Holden 2, Rohlfing 3)
Turnovers 7
2FG 16-27 (59%)
3FG 5-24 (21%) (Holden 1, Mueller 1, Sullivan 1, Meyer 1, Krenik 1)
FT 10-18 (56%)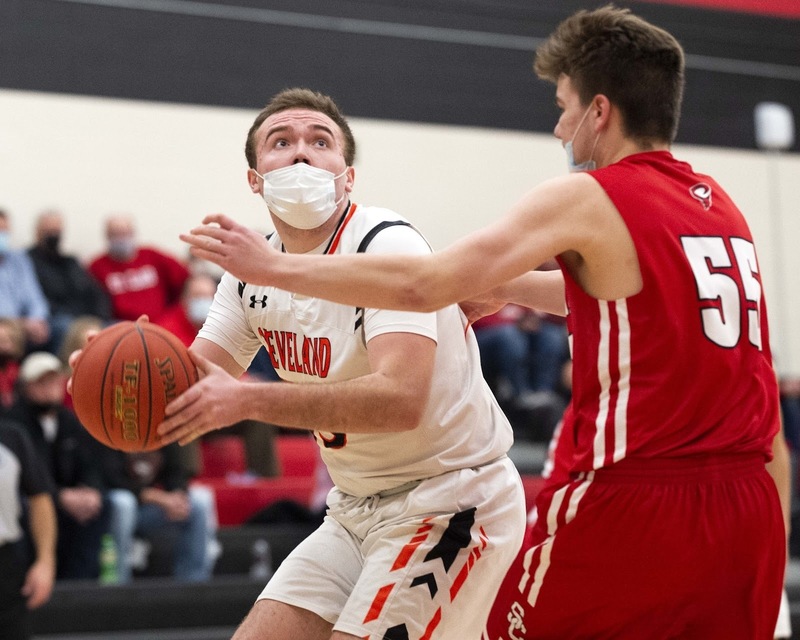 Ben Holden readies for a shot under the basket.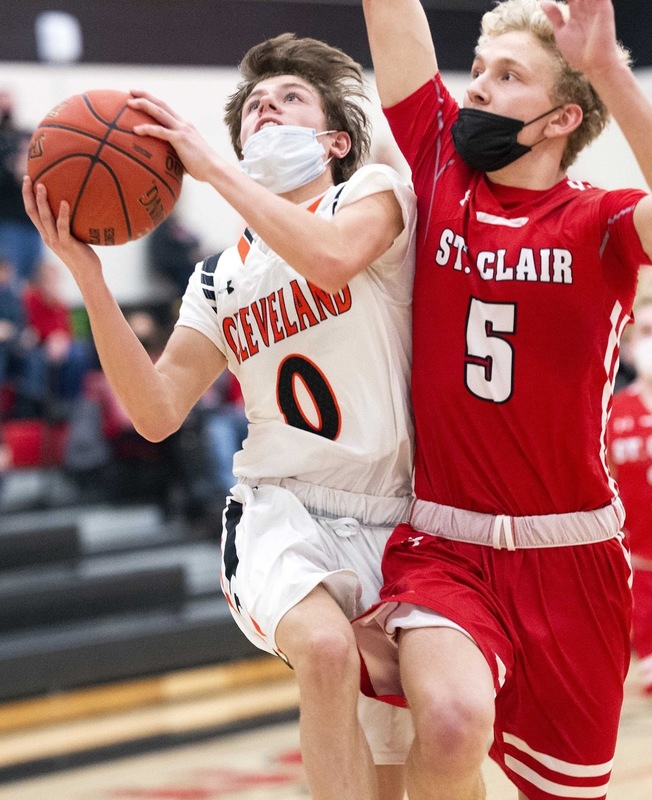 Taking a push to the body, Elijah Sullivan goes up for a shot.