After leading by three early in the second half, the junior high girls got careless with the ball, only managed two more points the rest game and let visiting Janesville-Waldorf-Pemberton romp to a 37-23 triumph.
But credit the Bulldogs too, said Brady Hahn, who has been coaching the Clippers in Christian Harmeyer's absence.
"They (JWP) played good defense. That was part of our pre-game talk: that they play nice, tight defense, and they move the ball around a lot. They play with their hands wide, and they've got two girls who are really quick."
Lacey McCabe's two-point shot was the game's first basket. The Bulldogs posted the next four points, but the scoreboard balanced with an Addi Holden (above) bucket.
McCabe steered her way to the net to put the Clippers up 6-4, but JWP, accurate from the foul stripe, made four free throws in a row and then dumped in the next two buckets, one after a steal.
"They like to push the ball down, so we really worked to get back on defense, and we got better at that as the game went on," Hahn said.
Using her height, sixth grader Keira Schipper scored inside and followed up with a basket from the baseline to pull the Clippers within three, 13-10.
Holden missed a jumper from just inside the arc but grabbed her own rebound. A few feet closer to the goal, she popped in basket to pull her team within a point.
With 2:25 left to recess, it was all even at 14 after Ava Hahn took a rebound down court, got fouled on her way up to the basket and made the first of two freebies.
As the half wound down, the Bulldogs scored inside, but McCabe drove to the hoop for a basket and then made the first of two foul shots. With a buzzer beater, JWP went up 18-17 at the break.
McCabe made two gratuity shots and then handed off to Schipper inside to put the Clippers in front 21-18 early in the second half.
But from there, the Clippers melted like the receding March snow. JWP made a pair of free shots and then went pick-pocketing for 10 points. McCabe's jump shot halted the 13-point run, but that was the last basket the Clippers would make as the Bulldogs kept the pressure on to roll to the triumph.
"With four minutes to go we're down by 10 points, and we could probably battle our way back," Hahn said. "But I looked down my bench, and I've got a lot of girls who need some play time. They needed to get out. They've been working hard in practice."
McCabe led the effort with a dozen points. Schipper scored six points. Holden dropped in four points. Hahn made a free throw.
"We missed a few easy shots too, but that comes with the game," Hahn said. "Some days you're hot and some you're not."
On Tuesday, the Clippers lost 45-32 in St. Clair. McCabe scored half of the points. Hahn totaled six points. Holden added five points. Schipper chipped in three points, and Sam Baker had two points.
The Clippers are back in action on Tuesday when they host Lake Crystal-Wellcome Memorial. On Thursday they close their season when they take on visiting Madelia.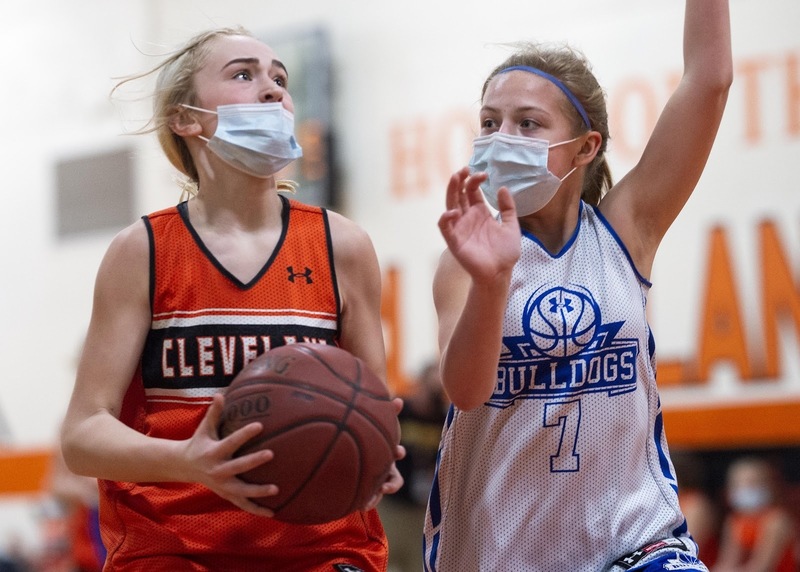 Ava Hahn pulls up for a shot.
Coach Brady Hahn said all the girls have been working hard and deserved floor time.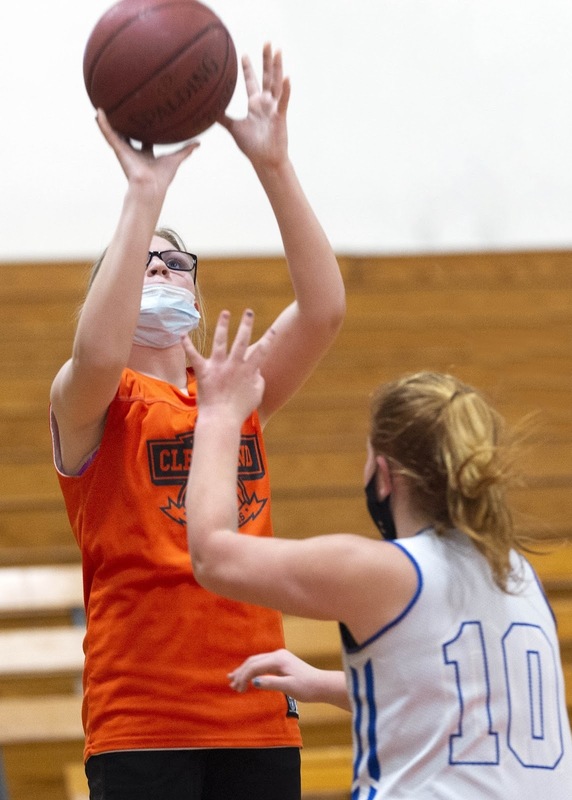 Keira Schipper puts up a jumper from the baseline.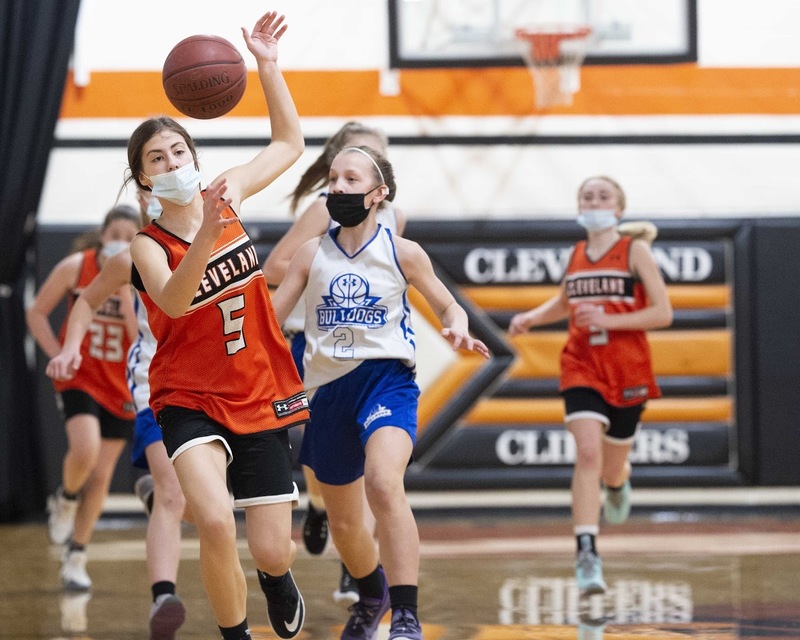 Lacey McCabe tries to reign in a down-court pass.