Putting the top quintet on the floor at one time has been problematic all season for the varsity girls, and it got worse on Tuesday when, with Halle McCabe already sidelined, Kaylee Karels (above) got carried off with an ankle injury.
Healthy, the Clippers had a good chance to avenge an earlier season four-point loss to visiting St. Clair, but as it was, the Cyclones sashayed to a 67-42 triumph.
"If we're going to play them, we've got to have our starting five, but I think we were fine until Kaylee, and that took a bite out of us," said head coach Joe Remiger.
The Cyclones pumped in a three for the game's first basket. They went up front 5-0 after a steal and two free throws.
Karels made went inside for a layup, but the Cyclones responded with a three.
Sarena Remiger put an offensive rebound in for a score, Karels scored on a drive, and Macey Ziebarth was four for four in gratuity shooting to pull the Clippers within three, 14-11, but the Cyclones stole twice for for points before Remiger took an in-bounds pass in for a basket and Karels stole and sprinted down the floor for a layup.
But the Cyclones scored nine of the next 11 points for a 27-18 advantage before Karels, hurt on a drive, got carried off the floor.
With free throws by Remiger, Ziebarth, Laci Hollerich, and Emily Kern, along with a Ziebarth drive, the Clippers managed to hang around though. St. Clair put up a three before the buzzer for a 37-29 lead at the half.
With more foul shots and a Kern inside basket, the Clippers narrowed their deficit to six to start the second half, but the Cyclones made five steals after that and scored eight-straight points before Remiger took a Kern toss in for a basket.
Later, the Clipper B squad checked in and played well with Micah Peterson spinning inside for the game's last basket.
"I told the girls, the B-Squad end of it…Mariah (McCabe), Greta (Hahn), Micah 'if you're going to play like this on the varsity floor, then let's see it in the B-Squad game.'" Remiger said. "Tonight, I think it was a confidence builder for them, like 'I can do this.' So let's see it on the B-Squad too. We expect it to transition into that."
Ziebarth led the effort with a baker's dozen points. Remiger contributed 12 points, while Karels and Kern each added six points. Peterson chipped in two points while Hahn made a free throw.
The Clippers, now 3-4 in the Valley Conference, made 22 of 32 foul shots and no three pointers. St. Clair, in third place in the conference with a 5-3 record, posted nine threes and were 18 of 27 from the foul line.
McCabe and Karels are not expected to play this weekend.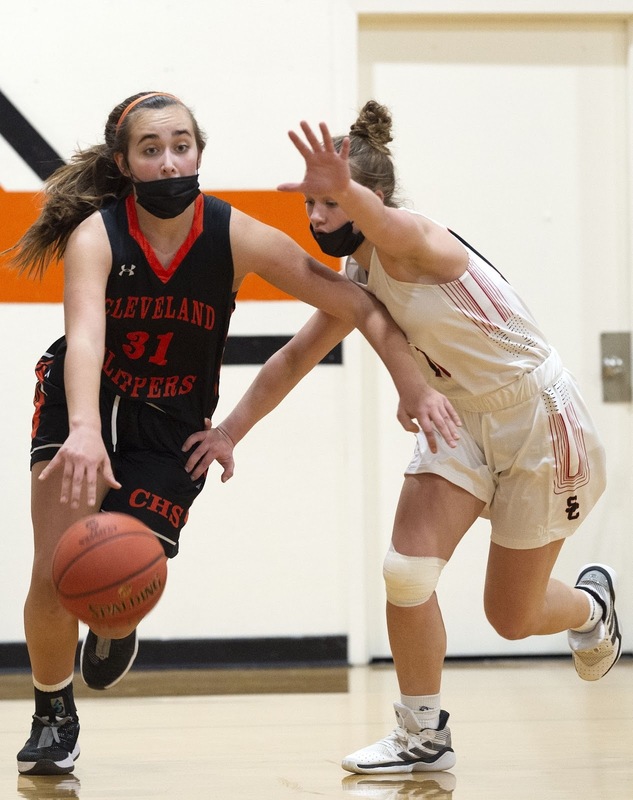 Laci Hollerich drives the baseline.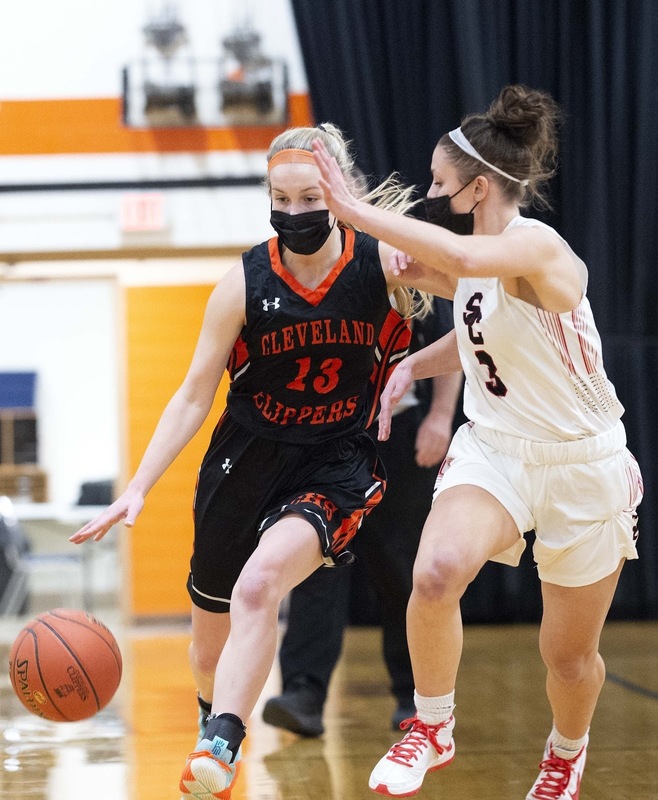 Macey Ziebarth takes the ball into Clipper territory.
Emily Kern works her way under the basket.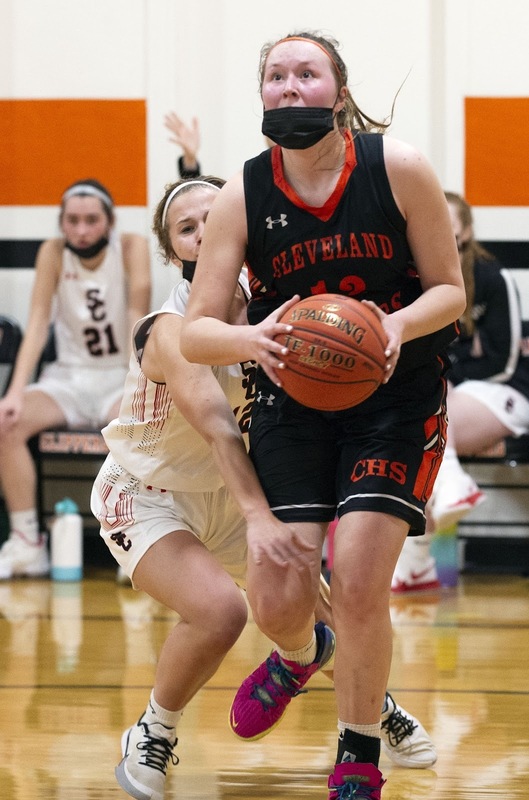 Sarena Remiger takes the ball down the baseline.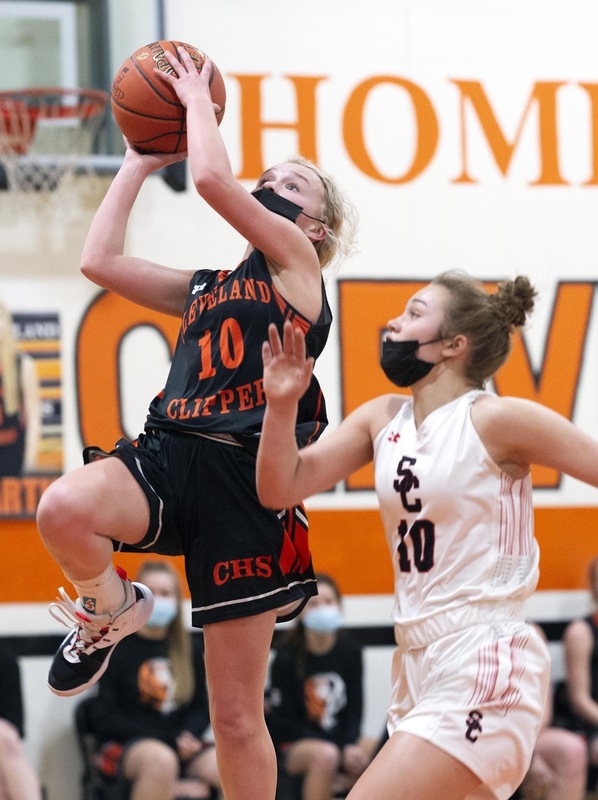 Greta Hahn goes up for a shot. She started for the injured Halle McCabe.