With the typical pomp and circumstance, including speeches, processions and band music, the only major thing different about the commencement ceremony this year as compared to those of the past was it was held in the new gym instead of the old auditorium.
So, for 34 members of the class of 2021, Friday's graduation observance—with pandemic protocols subsided—marked both a return to status quo and the end of a career at CHS.
"Our lives became to a standstill on March 13 of last year, and that struggle for normalcy began," said class president Macey Ziebarth in her welcoming address to the large crowd of family and friends on hand. "Despite the stress, myself and my classmates have emerged stronger than ever."
Valedictorian Ben Holden agreed.
"Past graduating classes have undoubtedly experienced struggles of their own, but the class of 2021 seems to have upped them all. Covid-19 seemed to put the world in a standstill in March of last year. Our senior class watched in agony as social lives, sports and life itself seemed to abruptly come to a standstill. The 'traditional' parts of our senior year vanished, but as always, we worked our way through anyway we could."
The class chose social studies teacher Brandon Gleason as guest speaker. The seniors were eighth graders when Gleason, a Waseca high school graduate, began his teaching career at Cleveland. Gleason spoke about some of the silly things the seniors did and how they responded to him as a teacher.
"Since I started here, most you have been telling me things like 'Show more emotion, don't speak in such a monotone voice, and smile more,'" Gleason deadpanned. "Unfortunately, here is a life lesson for you: You don't always get everything you want."
But Gleason's address took a thoughtful turn that echoed Ziebarth and Holden.
"I do want to tell you that you should be proud of everything you've accomplished, even if it's just being here for your graduation. You've persevered through a time unlike we've ever seen. You managed all sorts of things that previous classes have also endured, and then you had a whole new list of things like distance learning and everything else mentioned before me. You fought for many obstacles to get here today, and that should not be taken lightly."
Gleason went on to speak about "intrinsic motivation," which the seniors will need as they move forward.
"I hope I am not the first to tell you this, but as tough as it may have been getting through high school, it's going to get tougher."
Gleason wrapped up with two pieces of advice for the seniors: use critical thinking skills and be a good person to everyone.
"…to the cashier, the waiter, the truck driver, farmer, military member, your boss, your friend's family, anyone you encounter. Be a good person. Treat them well. The world will be a much nicer place if you leave here today and put that into action."
Holden earned the Androli, an award presented every year since 1948 that is based on scholarship, school and community service, leadership, participation in extracurricular activities and character. Ziebarth took home its counterpart, the Athena Award, which was established in 1981.
This year, the scholarships the seniors earned were noted as each one received a diploma. From service organizations, Dollars for Scholars, universities, and individuals and memorials, over $90,000 worth of scholarships were presented. Isaac Mueller was chosen for the Andy Struck Memorial scholarship while Halle McCabe earned the Mike Struck Memorial scholarship. Eric Rohlfing won the Terry Matejcek Memorial scholarship.
Both Holden and Ziebarth acknowledged all the support they have received at CHS.
"We have learned far more than standard subjects, as I believe Cleveland has transformed the graduating class into young adults ready for what life throws at them," Ziebarth said. "The memories made along the way will last a lifetime, and the inspiration for future success will always be rooted at Cleveland."
Also at the graduation ceremony, Taylin Gosch and Ashley Connor were the junior attendants. Kaleb Schmidt and Ashley Aguiniga Chacón presented the class history. Directed by Erik Hermanson, the Cleveland Graduation Ensemble provided traditional music. Principal Scott Lusk presented the graduates. School Board chairman Ron McCabe and Superintendent Brian Phillips awarded the diplomas.
The 2021 graduating class included, front row: Alex McCabe, Khia Buesing, Shannon Decano Cueto, Jillian Rohlfing, Ashley Aguiniga Chacón, Kaylee Jo Towne, Beverly Estrada and Tyler Erickson. Middle row: Megan Miller, Madison Conroy, Emmie Dittmar, Brianna Connor, Macey Ziebarth, Madisyn Woodrum, Serena Williams, Journey Willaert, Elijah Sullivan, Clay Klassen, Daniel Vetter, Nicole McCabe, Halle McCabe and Blake McVenes. Back row: Kallie Phillips, Brooke Behsman, Kaleb Schmidt, Isaac Mueller, Eric Rohlfing, Tyce Shook, Cameron Seely, Ben Holden, Ellet Taylor, Jackson Gibbs, Ben Griffiths and Daniel Leighter.
The seniors did the traditional mortarboard toss after the ceremony.
Social studies teacher Brandon Gleason was the guest speaker.
Macey Ziebarth, Madisyn Woodrum and Serena Williams watch a slide show of class photos that spanned their 13 years at Cleveland school.
Ashley Aguiniga Chacón and Kaleb Schmidt recited the class history. To their right is Principal Scott Lusk.
In his valedictorian speech, Ben Holden advised his classmates to pursue their dreams but at the same time understand those dreams may change many times.
Directed by Erik Hermanson, the Cleveland Graduation Ensemble provided the traditional "Fanfare and Recessional."
Isaac Mueller was chosen for the Andy Struck Memorial scholarship.
Halle McCabe earned the Mike Struck Memorial scholarship.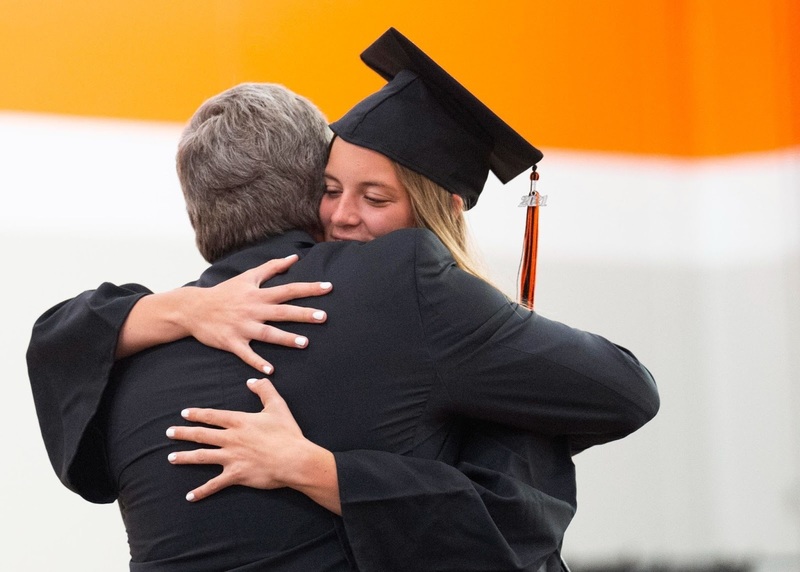 Nicole McCabe got a hug from her dad Ron after he awarded her diploma.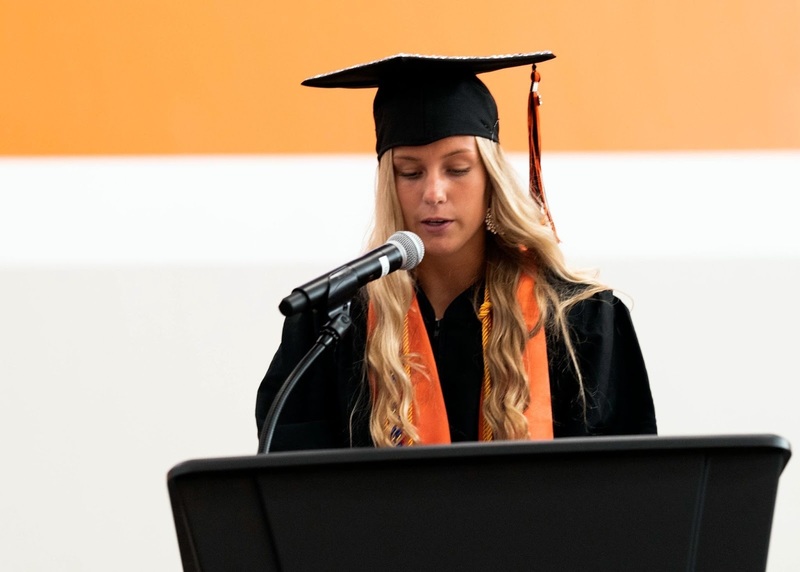 Macey Ziebarth gave the welcoming address.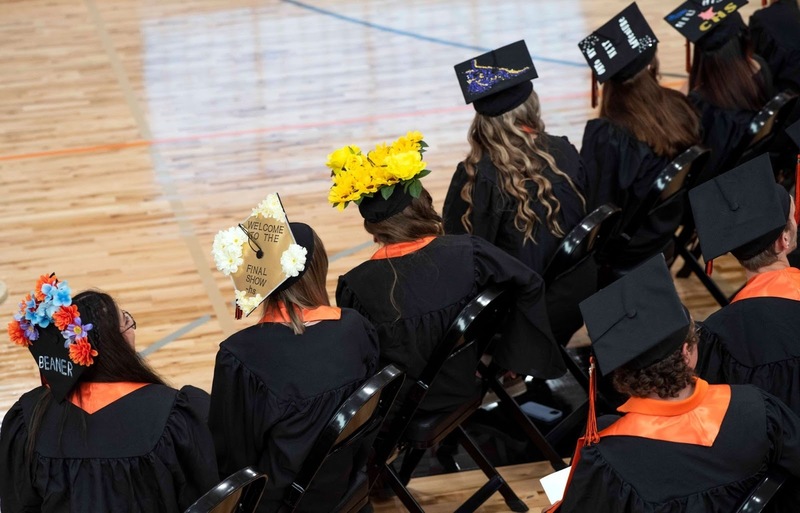 For many of the graduates, their mortarboards were their palettes with sayings, flowers, logos from the colleges they will attend or what their career will be covering their tops.