Above: Nathan Strobel runs in the pack early in the state cross-country meet.
Like other members of the Loyola/Cleveland cross-country team, Nathan Strobel bleached his hair for Saturday's state competition in Northfield.
Running the St. Olaf course with orangish locks is a tradition the Crusaders started two years ago, the last time a state meet was held, said the sophomore, who has typically led the team this season.
"We want to stick out, so people know who we are."
The Crusaders didn't get a lot of recognition though. Strobel wasn't up to his usual pace, and his team came in last of the 16 entries.
But while his chrome hairdo will eventually grow out and get chopped away, Strobel, who finished fifth for the Crusaders and 132nd of 157 runners, wants to take the positives from this year's meet into next season.
"I can't always carry the team. I learned that today. I had a bad race, but my teammates knew I was struggling, so they came in and gave a helping hand. I am just really grateful for them taking the step that I couldn't."
In 118th place overall, junior James Younge paced the Crusaders with an 18:26.20. Next in line for the team, sophomore Jorden Rossow was 122nd with an 18:35.93. Directly behind Rossow was eighth grader Corbin Deichman with an 18:38.53. Freshman Sam Vetter was 130th with a 18:44.53.
Strobel's 18:47.47 was well off his best time this season: 17:59. Injuries sustained along the route contributed to his slower-than-normal speed, he said.
"I was really strong the first mile, but then I caught a couple elbows in the gut, and I got spiked on, and after that, my hand got cut."
But fighting through the battle wounds, he high tailed it down the stretch.
"I knew I had to catch up, so the last 800 to go, I just gave it my all."
"I could see about halfway through he didn't look himself," said head coach Dale Compton, "but he dug deep down and found something at the end to get back to his teammates. I am sure he's a little disappointed with his finish though. He didn't run poorly, but he was a little off from where he was hoping to be."
Pushing the top five along, eighth grader Soren Kelly finished in 19:36.95, and freshman TJ Waldron ran the course in 20:32.67. The winning time was a blistering 16:09.64.
The Crusader the top five had a narrow 21 second spread.
"That's what we've been for the last couple of meets," Compton said. "Now if we can get them just to pack a little farther up, we'll see where that puts us next year."
Compton said despite Strobel only being a 10th grader, he has emerged as the Crusader's leader.
"He was really good for the team beforehand. He got them together and was getting them motivated. We have James, Jorden and Nathan who have all run this course before, so it was nice to see them sharing their information and Nathan taking it a step further before the race and getting them ready to go."
Even though the 2021 cross-country season is complete, Strobel and company will continue to train. Road running around Cleveland, he puts in 45-50 miles a week in preparation for the season. He gathers with the rest of the Crusaders for group workouts as well.
"For the team and me, it never ends," he said. "We're always training in the offseason, always working hard to get better. We still have track in the spring, and we want to have the same goals as we had in track in cross-country. We're always trying to be a team, even in the offseason."
The Crusaders have their sights set on a sixth-straight trip to Northfield in 2022 and a higher placing.
"They're hungry," Compton said. "They liked the experience of being here today, and they definitely want to get back."
"Next year, we're all going to be coming out harder," Strobel said. "We'll all be training. We already have workouts planned for next summer. We're already looking forward to next year and the races to come. Next year our goal is to try to get a medal at state."
Jorden Rossow just before the final stretch.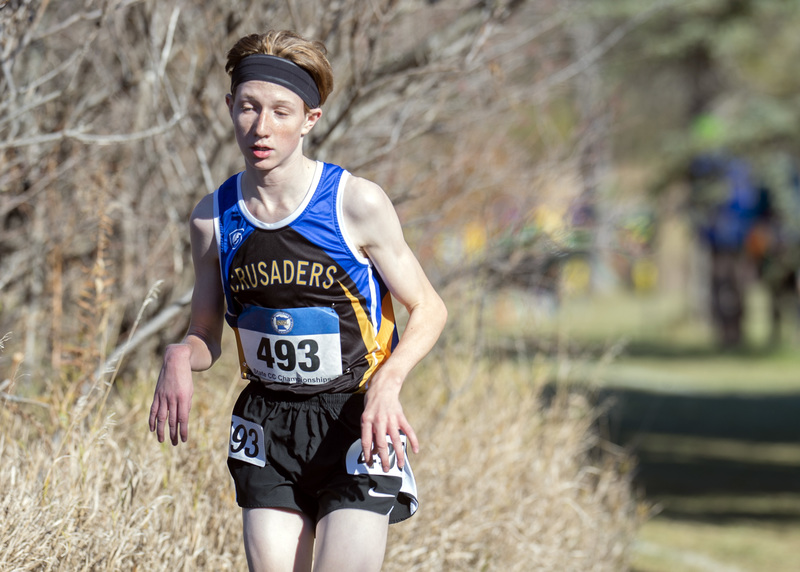 TJ Waldron makes his way around a curve.

The 2021 Loyola/Cleveland state team included, from L-R, front row: Soren Kelly, Sam Vetter, Nathan Strobel, Jorden Rossow, Corbin Deichman, and Andrew Buboltz (alternate). Back row: head coach Dale Compton, assistant coach Alex Nuy, James Younge, Carter Zimmerman (alternate), TJ Waldron, exchange student Oleguer Costales (team support), and assistant coach Mitchell Johnstone.