The Technology and Engineering club will be having our first organizational meeting on Thursday after school. Please see Mr. Boehlke if you can't make it but still want to participate.
Junior meeting in the media center on Monday, September 27, 2021 at SOS. Please come immediately after your 7th hour class. This meeting is about our fundraising for prom.
The PTO is looking for student volunteers in grades 10-12 that are interested in helping with the elementary Walk-A-Thon. It is from 1-3pm on Thursday. Let Mrs. Gibbs know if you are willing to help.
Supplies for Grandparent's Day Egg Drop activity are needed. If you have any materials that you think would be helpful, please send them to either Mr. Hahn or Mr. Skinner.
Today is Specialists' Day 1 and it is Day 2 for Kindergarten.
Happy Birthday: Isaac B- Kindergarten Hazel H- PreK
The nursing department needs ice cream pails! Please bring Kally any that you may have at home.
The Tech Club is holding a design contest for this year's homecoming buttons. All grades can enter and hand drawings are welcome. Show your school spirit and enter your artwork. Due Sept 30th- Please turn in your submissions to Mr. Boehlke.
FFA Meeting today in Ms. Susa's Room during lunch! Lunch will be provided!
Today is Specialists' Day 1 and it is Day 2 for Kindergarten.
Happy Birthday: Jack S- Grade 11
All 7th-12th grade students interested in Knowledge Bowl who did not sign up yesterday, A meeting will be held in the Media Center today during SOS. Please come see what it's all about! The first SADD meeting is today during lunch in the commons area by the art room. If you did not sign-up and still want to join, just show up to the meeting.
Congratulations to Marshall Heldberg, Jay Pankratz, and Emma Treanor who competed in the GFW FFA Trap Shoot Invitational on Saturday. There will be an FFA meeting for ALL interested students in grades 7-12 at lunch on Thursday in the Ag Room. Lunch will be provided! Last year's members should look for an email from Lilly Draheim with details about the meeting.
Today is Specialists' Day 5 and it is Day 2 for Kindergarten.
Happy Birthday: Kaleb A- PreK Carter D- Grade 12 George G- Grade 6 James G- Grade 6
Today is Specialists' Day 4 and it is Day 1 for Kindergarten.
Happy Birthday: Leighton E- Grade 3 Braeden H- Grade 11 Grayce K- Grade 12 Charlotte M- Grade 5 Jackson M- Grade 5 Connor R- PreK Logan S- Grade 4 Devyn W- PreK Sunday, September 12th: William S- PreK
PICTURE DAY RESCHEDULED!!! Picture Day will be Monday, October 4th.
Reminder that there there will open an open house and dedication ceremony TONIGHT for the new school addition! Tours will start at 5PM and the dedication ceremony will begin at 6PM in the new gymnasium! We encourage all community members to come and check out the new space!! There will also be a back to school celebration open to the entire community taking place in the new parking lot. Food, music and kids activities will be available so come join the fun! Wrap up the night on the football field to cheer on the Cleveland Clippers at the first home game of the season at 7PM! Reminder to all fans attending Cleveland football home games to bring a lawn chair or blanket to sit on the hillside to watch the game. Concessions will also be provided at each game. Go Clippers!!!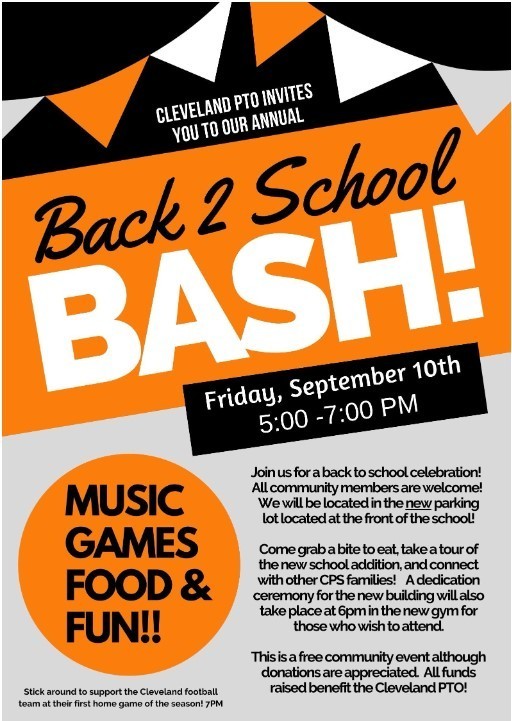 Monday is Picture Day!