​FIREARM SAFETY CLASS: This is for the kids that have completed the online course and need a field day. This year's Firearm Safety class will be held on two days this year. On August 18th we will have a firearms introduction and classroom time from 5:30 PM to 8:30 PM at the Sons room at the Cleveland American Legion. We need a parent to be present the first night to fill out paper work and can pick the kids up when class is done. Then on August 20th we will have our field day at the Caribou Gun Club at 8:00 AM until noon. Please call the Cleveland School District office to sign up. We are capping the class at 25 kids. Dress for the weather. Please do not bring any firearms or ammunition to any of the classes.
jack.zimmerman21@gmail.com
(507)340-0679
The playground is under construction and is currently closed. Please refrain from using it for the rest of the day. Thank you!

Remember that teacher who made a difference in your life? Now it's your turn! Substituting is a phenomenal opportunity to be a mentor and help students become the best versions of themselves. Substitutes are essential to ensuring students continue to learn and grow every day. Minimum requirements: Substitute Paraprofessional – High School Diploma/GED Substitute Teacher – ANY Bachelor's degree with a MN Short Call License or MN Full time Teaching License. Want to find out more information? Check out our website: teachersoncall.com. Have any questions reach out to:
Jillian.rowe@teachersoncall.com
or 800-713-4439 for more information.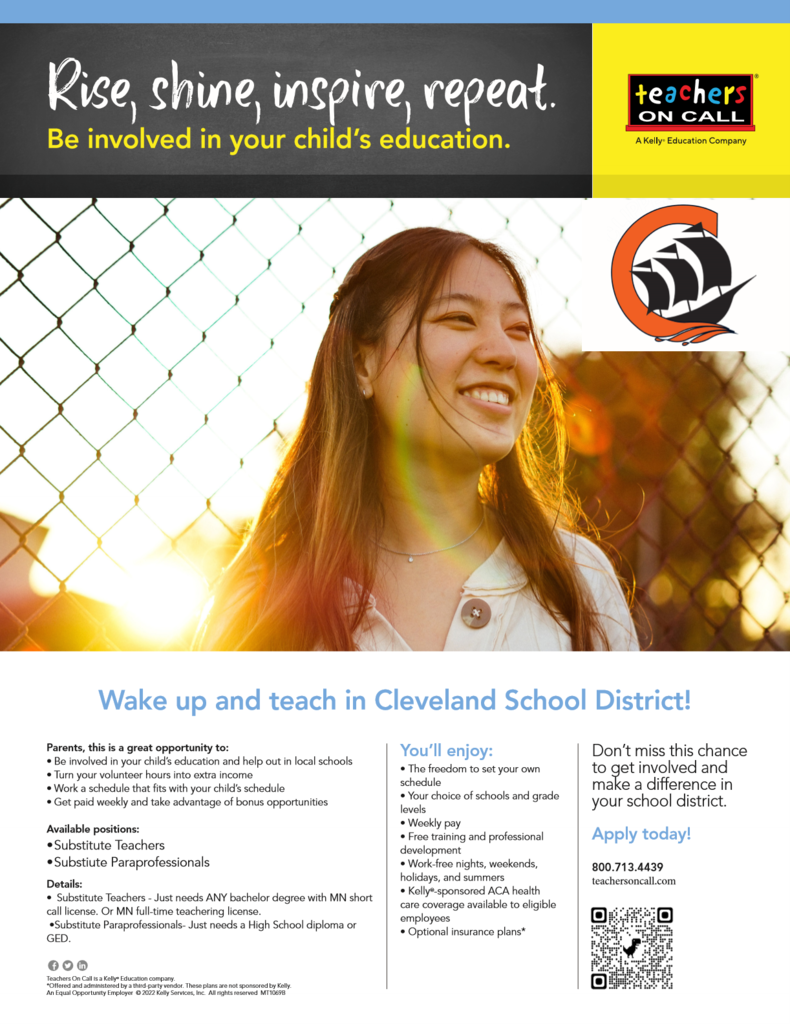 We will be extending the dates students can eat free meals this summer! Children under age 18 can come to the Commons Area on Mondays through Fridays, July 25 through 29 and August 1 through 19. Children do not need to be enrolled in our summer school programs to receive free breakfast and/or lunch. Breakfast will be served from 7:30-8:15 a.m., and lunch will be served from 11:00 a.m.-12:15 p.m. Meals will be served in our school's commons area, just off the new gym. Consider downloading the Free Meals for Kids mobile app, which was created in partnership with MDE to support summer child nutrition programs utilizing the Summer Food Service Program (SFSP). Free Meals for Kids helps families and kids locate free healthy meals across Minnesota. The App is powered by GPS and shows locations of schools and community sites providing meals, with days and hours of operation. It also shows the distance and directions to the nearest site from your location. The App is updated regularly, even daily, to make sure the information is up to date. To download the App, click on one of these links:
https://apps.apple.com/us/app/summer-eats-minnesota/id1230666424
or
https://play.google.com/store/apps/details?id=com.app.p3703BA&hl=en_US
If you have any questions, contact
manzey.monica@isd391.org
or 507-484-1342 OR
tuma.lori@isd391.org
or 507-484-1305.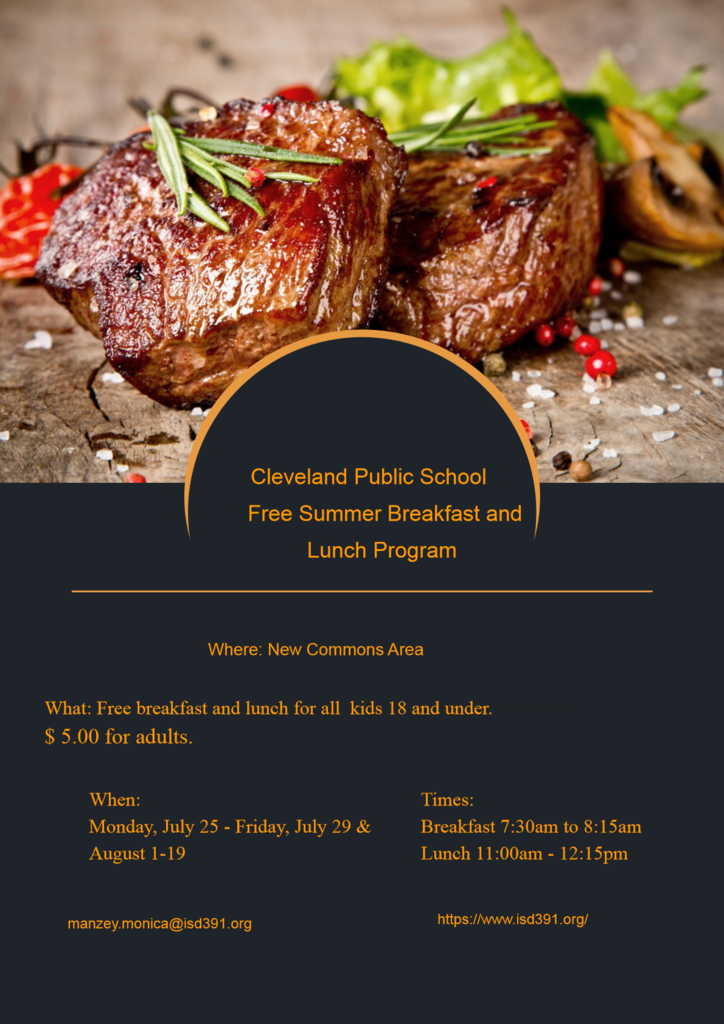 Dance Conservatory of Southern Minnesota is a non-profit organization dedicated to the promotion of the art of dance. They are inviting your to be part of their the 2022-2023 Dance Year!! Please see their flyer. The link is below.
https://5il.co/1dy1c

All students entering kindergarten are invited to sign up for Hop Into K! Camp. Camp is from 8:00 a.m. to 12:00 p.m. August 1-5 and 8-12. Choose one week to attend. Cost is $25 per child.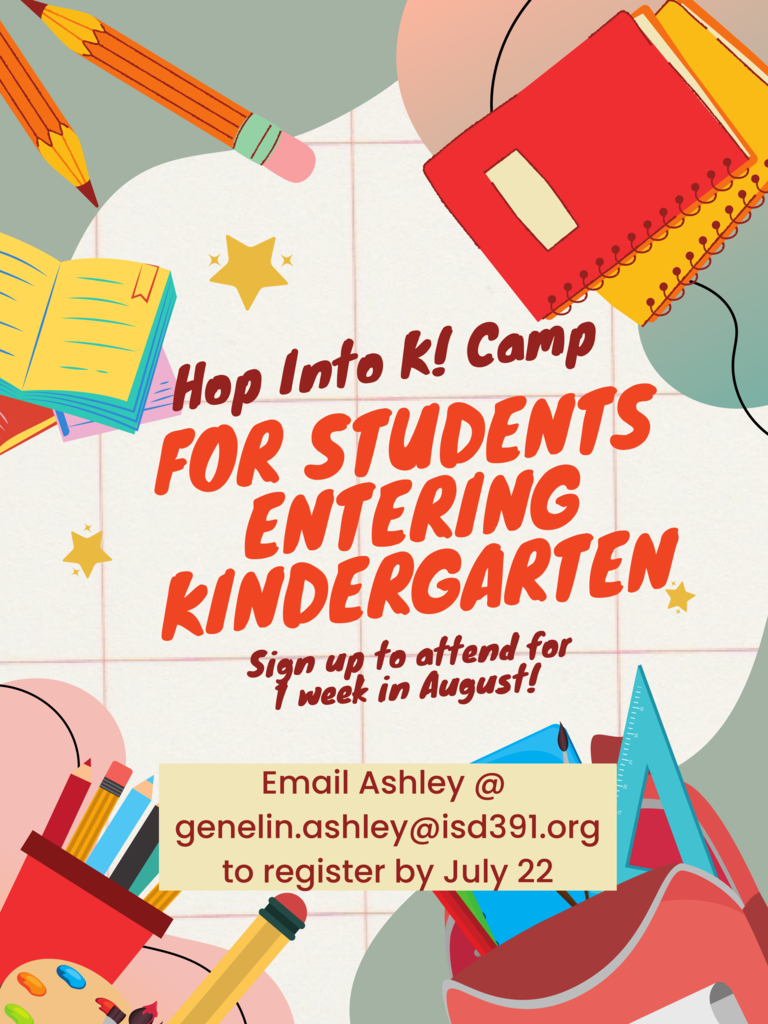 Happy Birthday to: Riley T- Grade 12 Benjamin T- Grade 6
All 9th and 11th grade boys come down to the athletic lockers after announcements today to clean out your lockers.
Marchán's SOS report to Atherton's SOS.
Sophomores and Juniors please check your google classrooms for the mentor application form. Forms should be turned in by tomorrow at noon.
There are a few more succulents available for sale in Ms. Susa's room- $5 each.
There will be a Student Council meeting today during SOS in the Media Center.
Today is Specialists' Day 3 and it is Day 1 for Kindergarten.
Happy Birthday to: Tristan W- Grade 9 Isabel D- Grade 8 Riley D- Grade 3 5/30 Birthdays: Jocelyn C- Grade 4
Baseball at New Ulm today playoff game 5:00pm. Players dismissed at 2:10pm - bus leaves 2:30pm. Good Luck Clippers!!!
Elementary student council please meet today during lunch in the SAC room.
Sophomores and Juniors please check your google classrooms for the mentor application form. Forms should be turned in by tomorrow at noon.
There are a few more succulents available for sale in Ms. Susa's room- $5 each.
It is that time a year again to clean out your athletic or PE lockers. Please began taking clothes home and cleaning out lockers. All clothes or items left at the end of the year will be donated.
Today is Specialists' Day 2 and it is Day 3 for Kindergarten.